My life with Art and Alchemy - Timea Tallian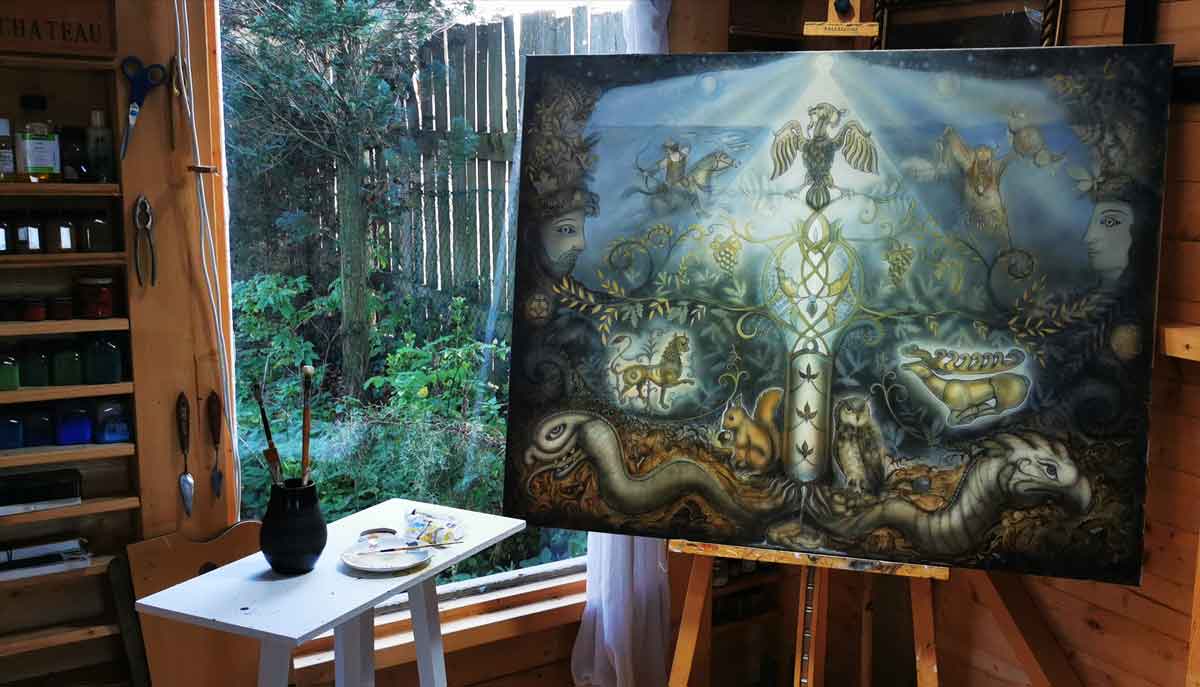 This story is not so much about "me" but about the strange life circumstances that made "me" into an artist. You might already know some of the secrets of how to become an artist but maybe you find a morsel of inspiration in my story.
My life story is not very linear. I lived a double life, went in circles, had some ups and downs and ended up in the same spot I started out in the first place.
Born in Vienna, Austria in the late 70's, as the daughter of Hungarian refugees, I started life in a beautiful historic "art deco" house built by Otto Wagner. This is exactly the place where the Vienna Academy of Visionary Art (VAVA) is located today. Many of my best friends and artist colleges from all over the world are studying and working there in the painting studio and cultural spaces. But before meeting my destiny and tribe there decades later, many other things had to happen first. The most difficult part was to survive twelve years in a girl`s private school and to graduate without getting insane. After that I passed the entrance exam of the Academy of Fine Arts in Vienna. The Academy during the late 90ies was pretty frustrating. The teaching of traditional painting techniques was sparse and it was considered to be out of date.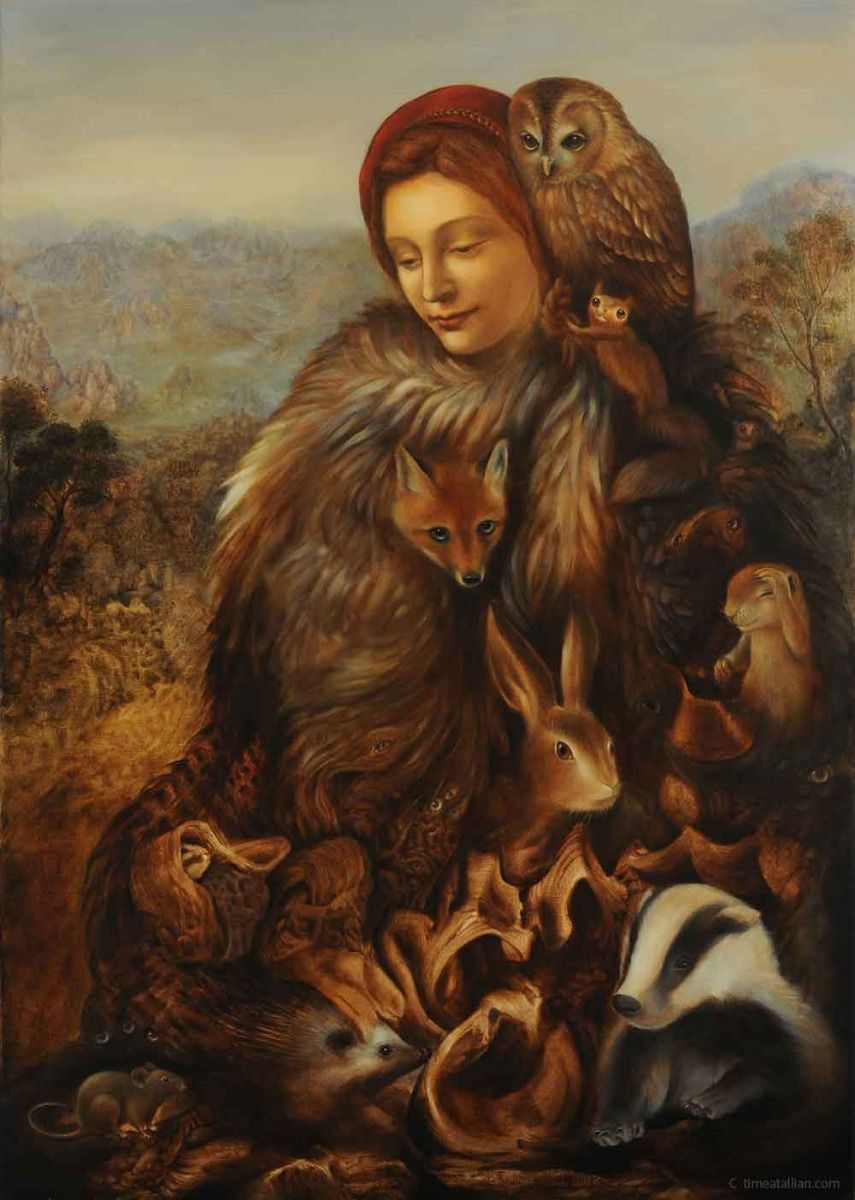 "Princess Furball" (Allerleirauh, a Grimms Fairy Tale) 2016, Oil on linen.
In order to learn more about art materials I decided to study Art Conservation. Prof. Baatz, Head of the Conservation Program, told me straight away that I was way too much of an artist. And he was right, After 15 years going through a tough training to become a specialist conservator, I strayed and deserted my profession. During this period I had the unique chance to work for many Museums and to restore priceless artifacts made by artists such as Gustav Klimt, Hilliard or Holbein. My scientific interest in artist´s materials and techniques quickly became an obsession. I nearly poisoned myself making lead white from scratch, skinning road kill in order to make parchment and grinding precious metals and minerals. There were all sorts of alchemical and strange experiments. Moreover, this eccentric art researcher lead a somewhat bizarre double life in London.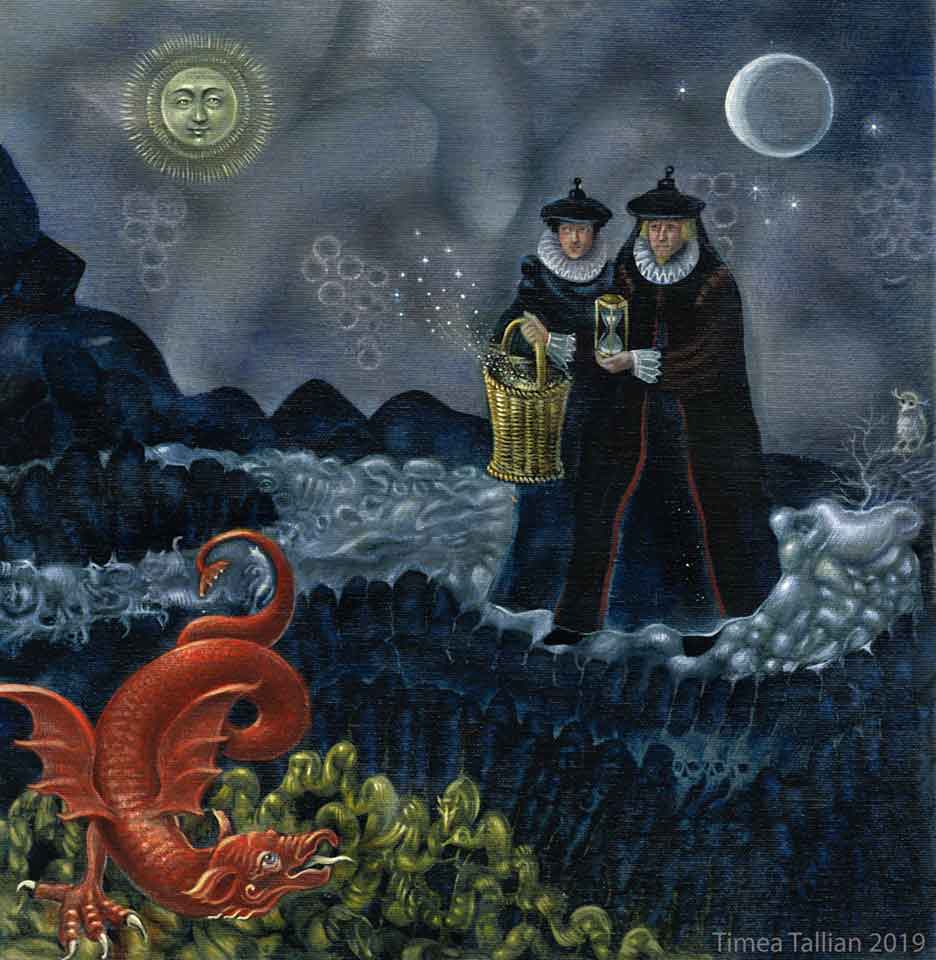 "Sea of Mercury, Mountain of Sulfur" (A Basket of Stars) 2019, Oil on Canvas Bord
During most of my seven years studying at the Royal College of Art and working in the V&A Museum, I lived like a gypsy in a tiny caravan. My home was without electricity and running water located in Hampstead Heath Park. I smelled like wood smoke from my oven and sometimes there was so little money that I ate nettles, like the great Tibetan sage Milarepa, till I turned green. I was swimming in an open air pond in summer as well as in winter and I wrote my PhD thesis in a public library. It was a wonderful time in my life and deeply connected me to nature. There was this highly professional museum employee who after work turned into a Pixie wrapped up in blankets and furs, living in the woods in some hobbit hole. A public gym was used to change back into character, to rinse off the smell of smoke and to put on makeup, black suit and high heels - I felt like Supergirl.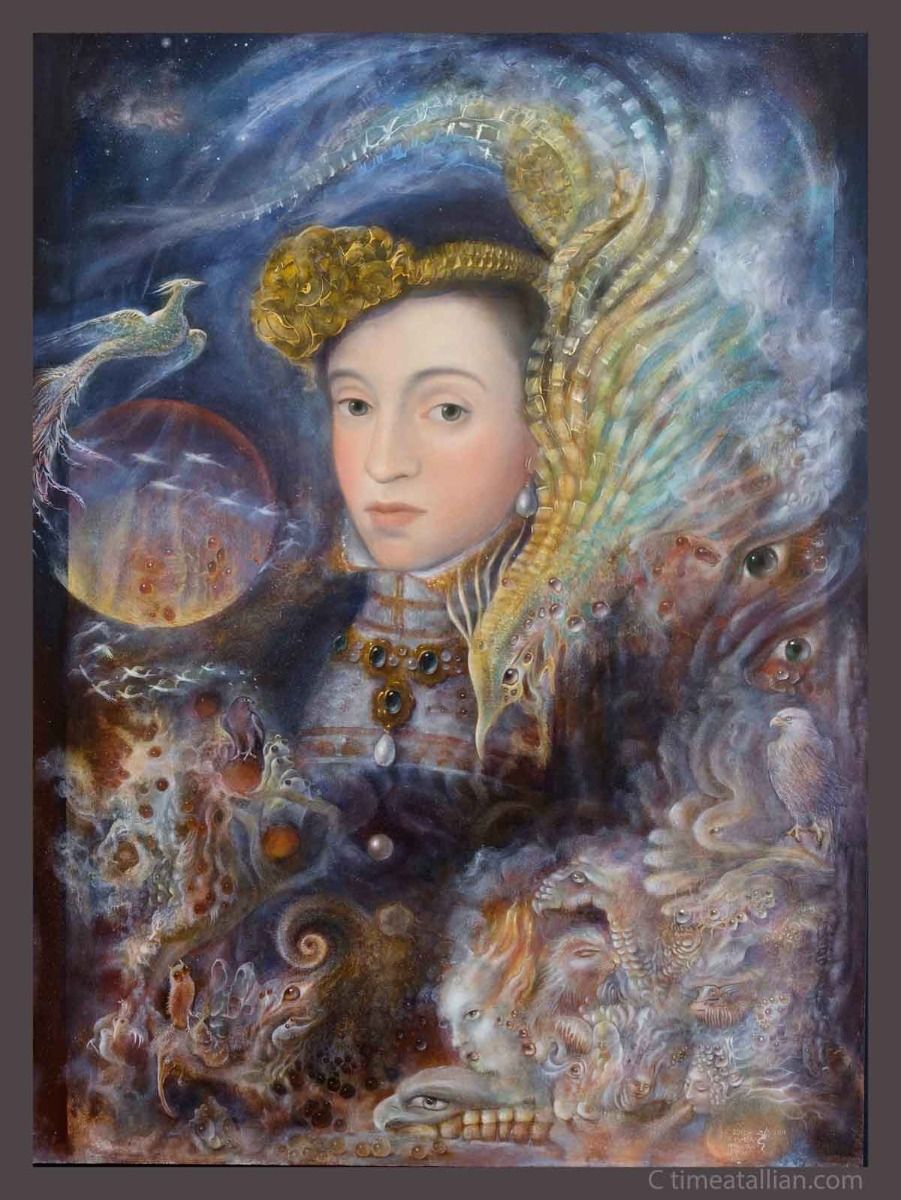 Alchemist Infinity, 2013, Oil on Wood
With sixteen, escaping from a language course, I took magic mushrooms with a friend in Oxford. I never had contact with psychedelics before. It was mind-bogglingly surreal. We both saw figures from an MC Escher art book and some creatures from Hieronymus Bosch come to life and crawling out of the pages. From that very day onwards, reality became relative. I looked deeper into Quantum physics, neuroscience and spiritual traditions especially from Tibetan Buddhism (Dzogchen, Chöd) and Yoga. This quest to explore and to hack reality continues to the present day and influences my artwork.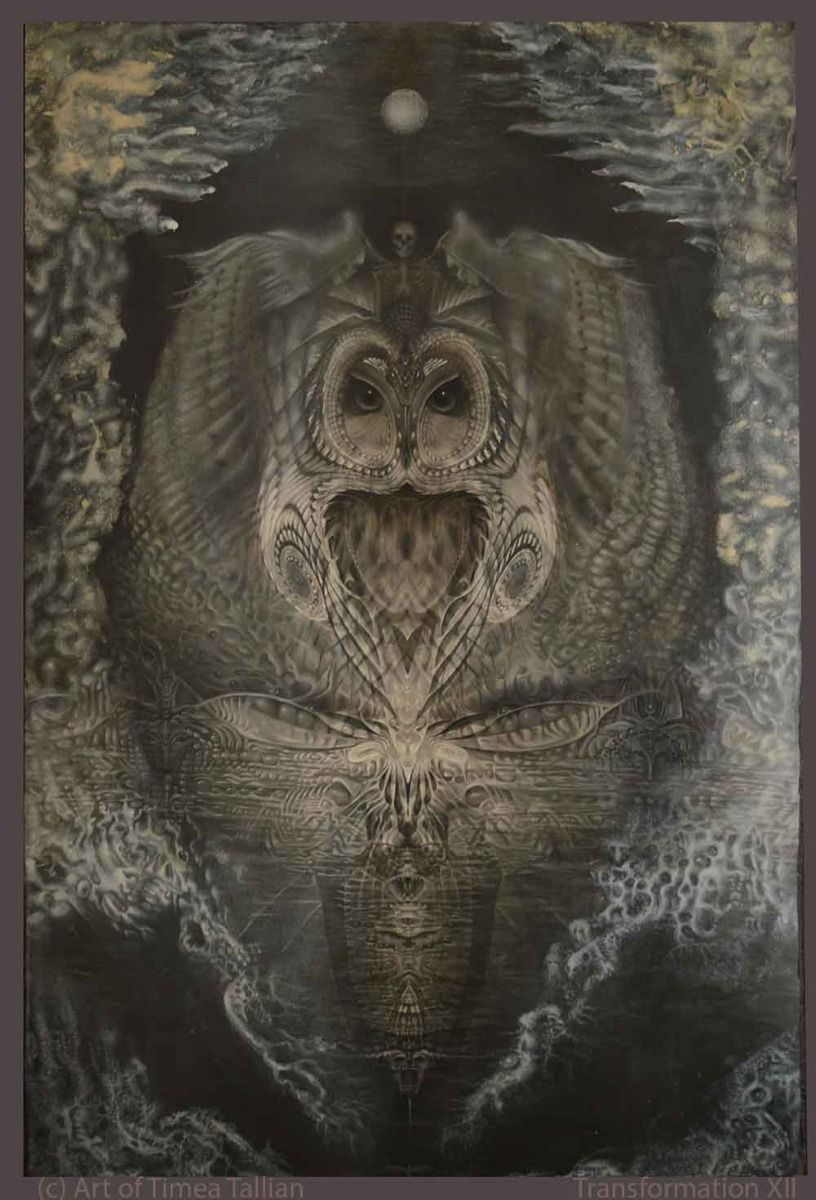 Transformation XIII, 2015, acrylic on canvas
In 2006, I serendipitously met the English artist Daniel Mirante. He introduced me to the Visionary Art world and I shared my knowledge of Renaissance materials and techniques. He also inspired me to come 2010 to the "Visions in the Mischtechnik Seminar" in the eco village of Torri Superiore in Italy. There I met some very good friends, teachers and greatly admired artists, amongst them Laurence Caruana, Amanda Sage, Kuba Ambrose, Andrew Gonzales and Maura Holden.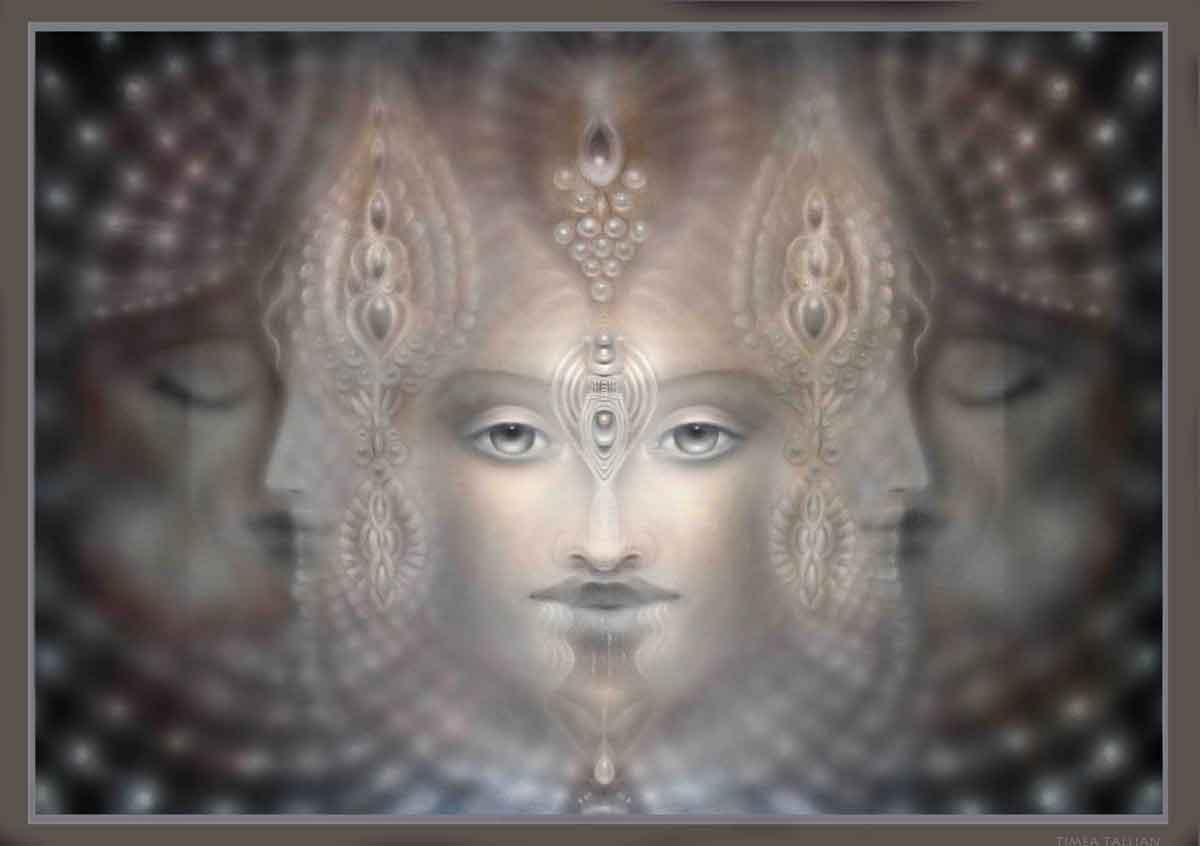 Avaloka, 2013, Acrylic and Oil on Canvas
In 2012, the famed artist and our visionary art guru Ernst Fuchs needed assistants. Together with some friends, we took the opportunity to volunteer in his studio at the Palais Palffy in the very heart of Vienna. He was already quite old back then, often forgot where he was and was wiggling his false teeth. Occasionally he had lucid moments and words of wisdom would pour out of him. I remember what he told me about contrast – that light needs darkness to glow and demonstrated it to me by putting a pitch black line, with a huge brush, right into the middle of my painting. My jaw dropped. The newly founded Vienna Academy of Visionary Art (VAVA) was also located in the Palais Palffy and I joined them as a guild member and teacher. At this point I "really" started to paint.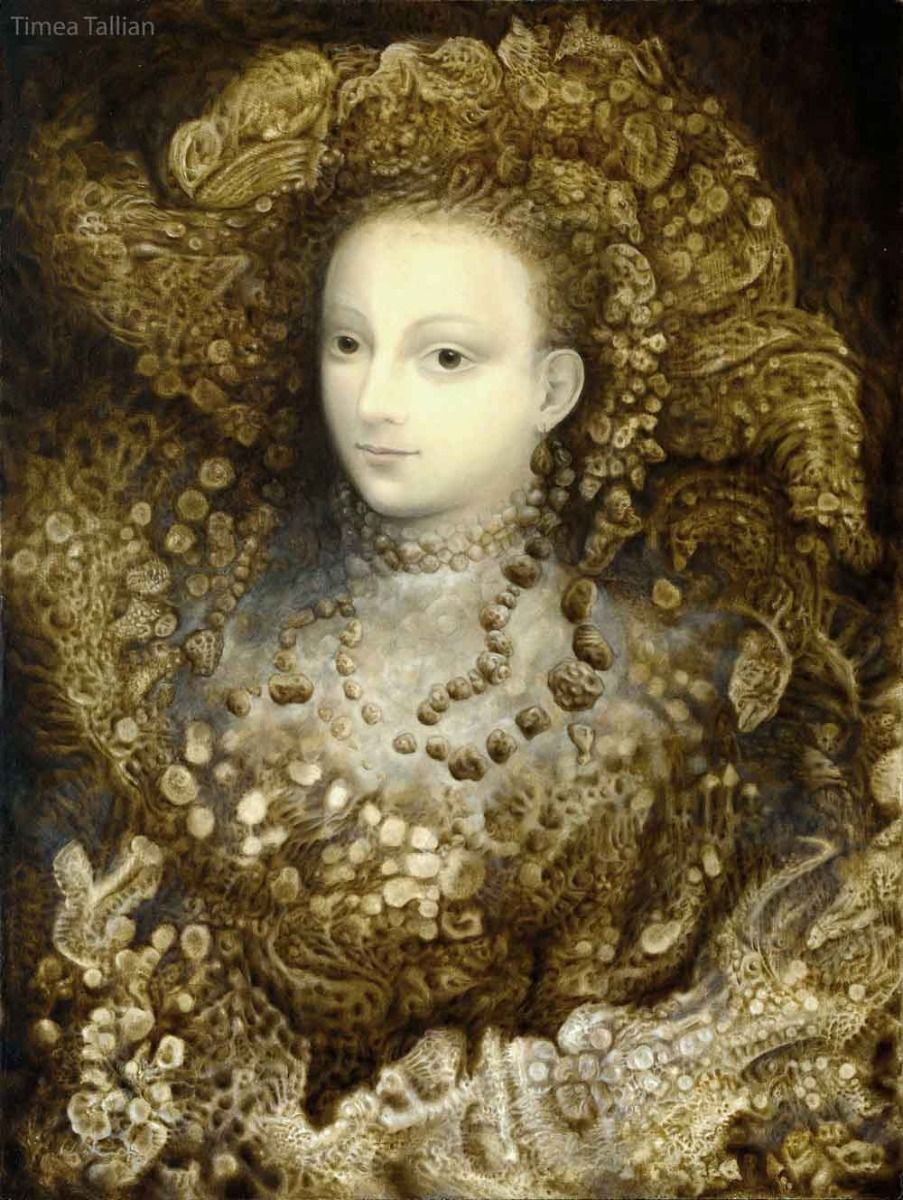 Maestra di Alchimia Protoplasma, 2016, Oil on wood panel
This was the end of my double life. Since I gave up my museum career, the universe has conspired to support me, I met amazing people and artists in Vienna like Benedetto Fellin, Ernst Fuchs, Arik Brauer, Anton Lehmden, Turi Werkner, Leo Plaw, Peter Gric, De Es Schwertberger, Otto Rapp, Mark Lee, Autum Skye, David Heskin, Aloria Weaver, Olga Klimova, Oleg Korolev, Celene Venosa, Liba W. Stambollion, Kevin Campeau and countless others I would love to mention but the list is already too long.
Nature Spirit I, 2011, Watercolour, black / white chalk on paper
In Hungary I bought a manor house (Kuria) from the early 18th century with five meter high arched ceilings, including an estate with a brook. That was a bit of a throwback. The restoration work of the building turned out to be of epic scale and again kept me away from painting. After the sheep ate all my newly planted saplings on the farm I had enough and decided that I had to simplify life dramatically. Today I own a tiny cottage in Hungary in a small village near the Austrian border. It feels good to explore my roots, connect to the land of my parents and ancestors. This also inspired my current painting "Lélekfa", a Hungarian mythological tree of life.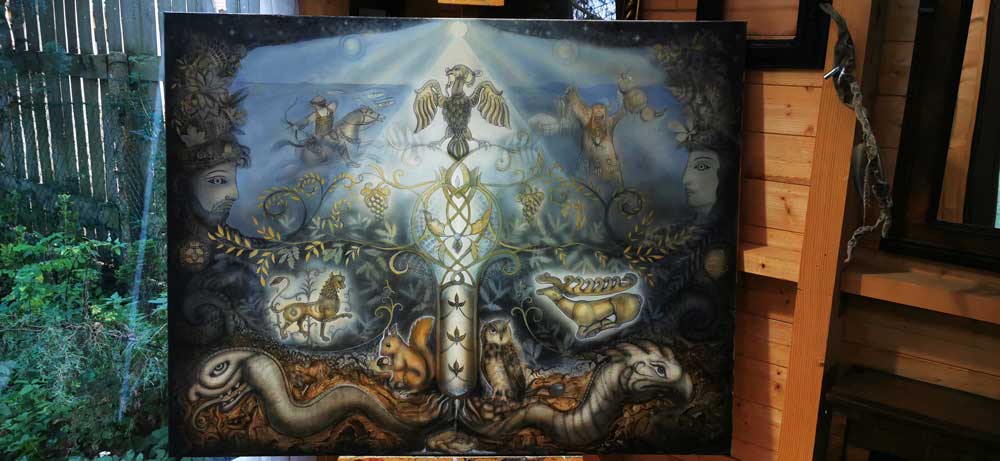 Lélekfa (Tree of Life), work in progress, acrylic on canvas
Both of my parents are antique dealers and I was surrounded by art and paintings all my life. The magic worlds of the artists Ernst Fuchs, Brian Froud, Robert Venosa, Zdzislaw Bekskinsk, Remedios Varo and Vali Myers have great influence on my art.
With thirteen, I found Giger's Necronomicon in a public waste paper bin. I was intrigued by Giger from the very start. The motives themselves were repulsive but I loved the black-whiteness and alchemy visible in his work. I also marveled over the decaying forms, dirt and all sorts of dark dreams which he vomited out with his airbrush in the most beautiful way possible. I did not work with the airbrush till I was introduced to it by Andrew Gonzalez, in 2010. Since then I wildly mix my techniques and materials. However I am very conscious that my art is of good quality, that it has little impact on my health and the environment. Here the training as a scientist and art conservator has turned out to be extremely useful.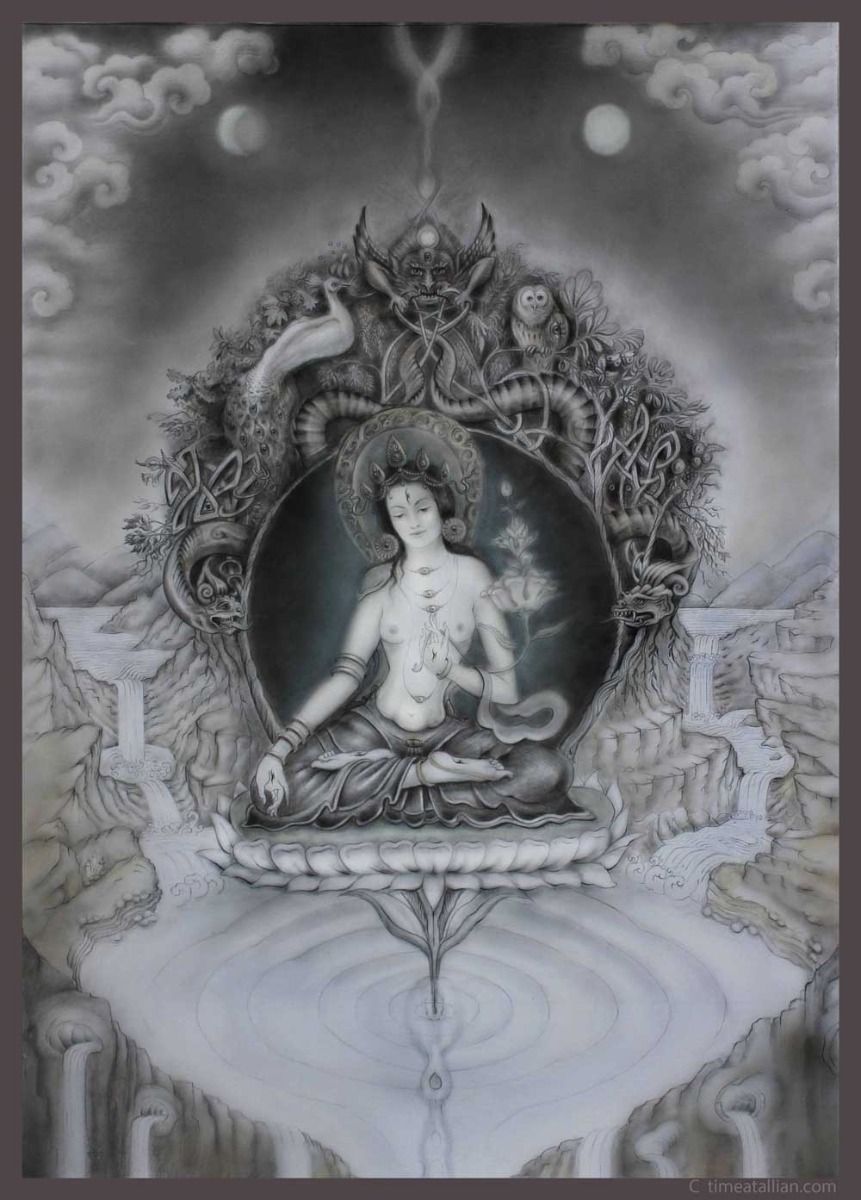 White Tara of Albion, 2011, Watercolour, black and white chalk on paper
During eight months working in the Himalayas I have also received a basic training in Thangka painting from the head painter from the Bhutanese Trongsa Dzong Monastery. In London I struck a friendship with the artist Robert Beer whose book "Tibetan symbols and motifs" is the treasure of my library. Together with my love for Renaissance painters, all those ingredients make for a strange cocktail of styles.
However the biggest inspiration of all is nature. I would have loved to be a natural history illustrator and explorer, travelling with sailing ships to foreign lands and to paint strange butterflies, creatures and meet indigenous people. I seem to live that dream by travelling the inner worlds, bringing back images of entities, fairy creatures and other dimensions.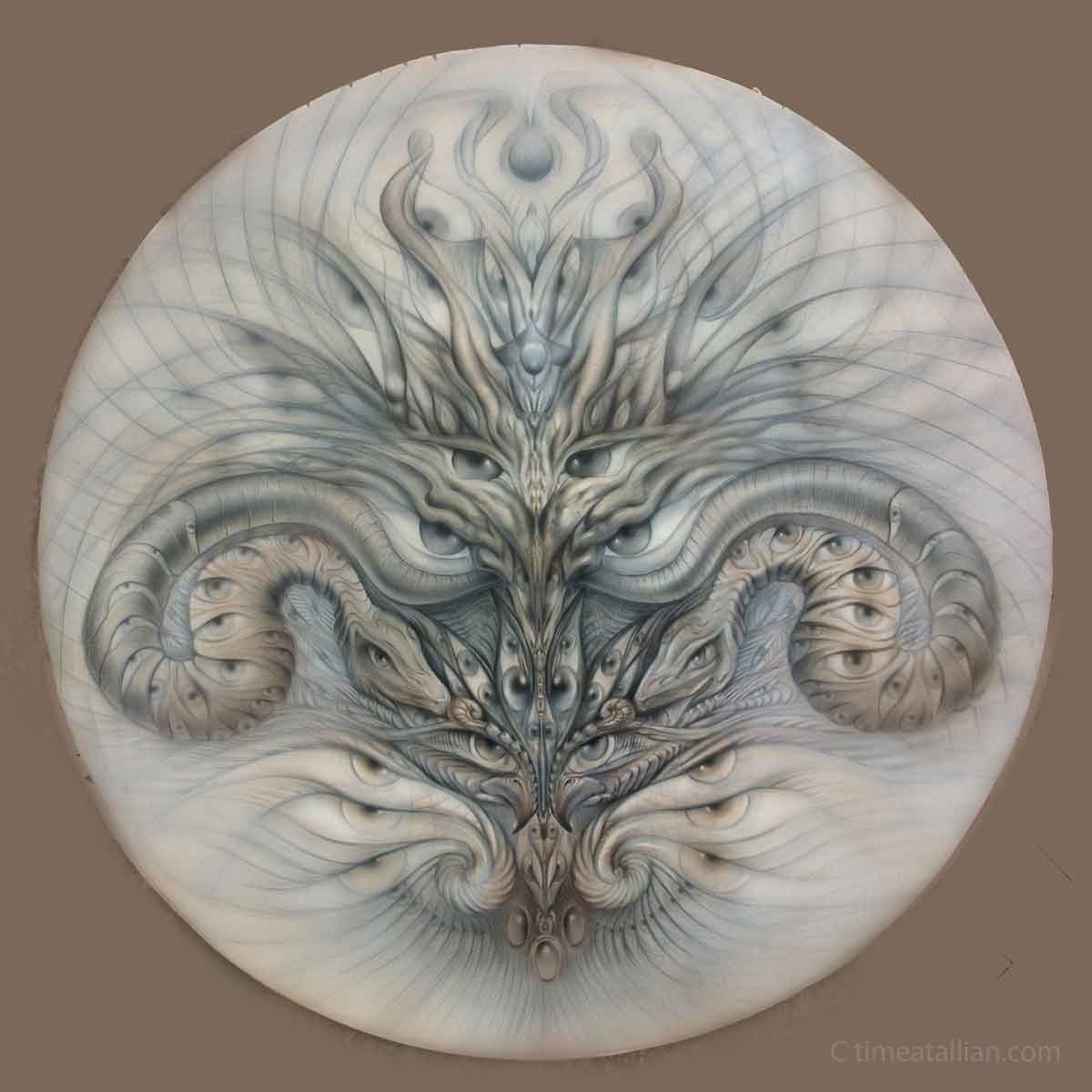 Timea Tallian, Aves Infernalis, 2014, Watercolour, Black/white chalk on paper mounted on wood
Art, Entheogens, travelling, trance dance and art conservation have introduced me to what is sometimes referred to as the flow state. This is a state of heightened attention to detail and focus, in which you lose "yourself" in an activity. During painting I becoming part of the image, we become one. The canvas is a mirror, showing me something fundamental about myself. It feels almost like an automatic download, some artists call it "channeling" others "meditation". Patterns and forms emerge from splashes of paint on the canvas. Often the initial idea morphs into something else. My current most favorite painting "Nightshades" is a good example for this process.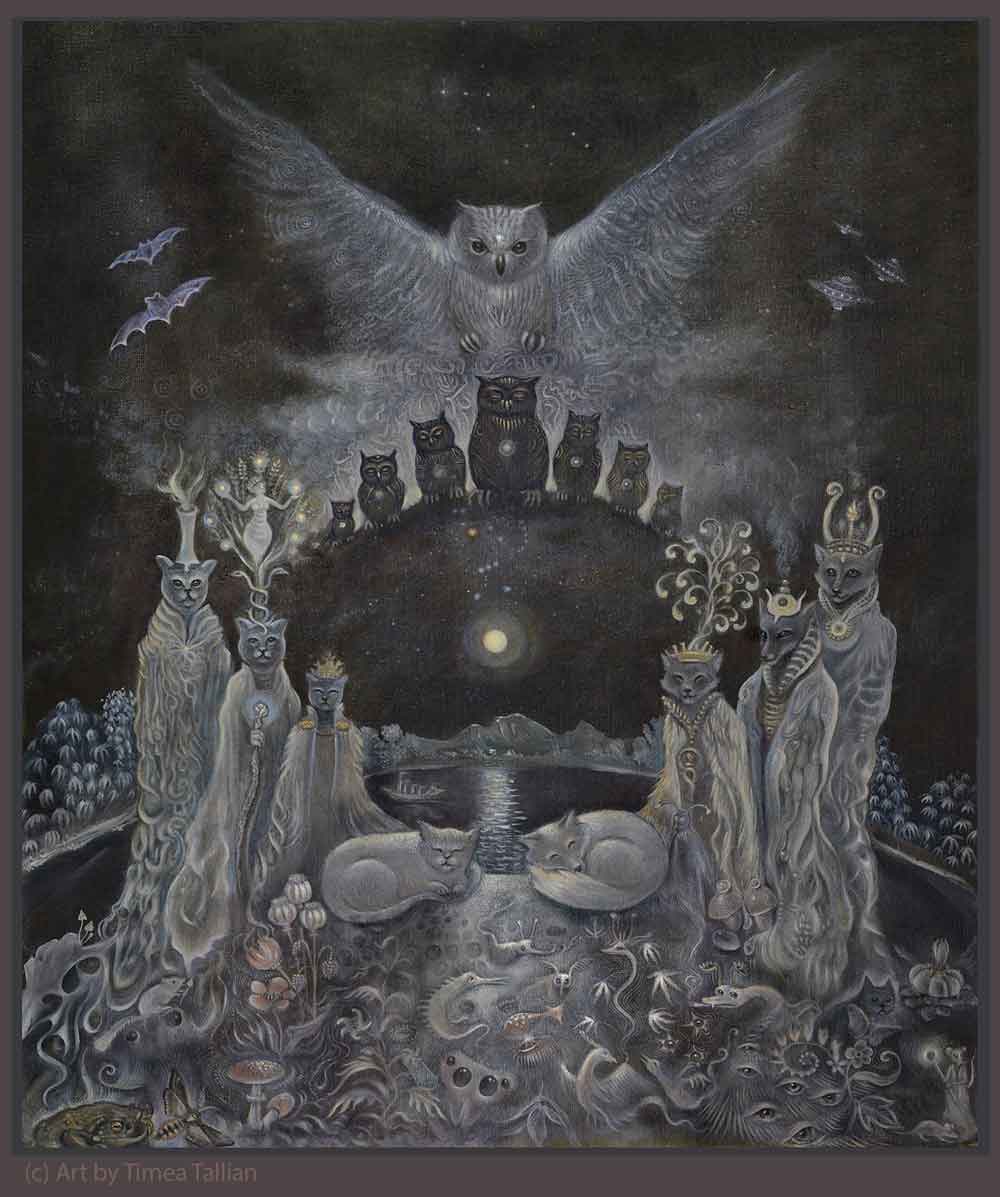 Nightshades, 2018, Oil on canvas
I believe there is strong healing power in creative activities. Especially in collaborative projects, where the artists merge into a hive mind. I certainly do not see my future as an individual artist but as part of an art collective. In German we have the term "Gesamtkunstwerk", which refers to the unity of all arts and crafts (painting, music, gardening, architecture, sculpture, fashion etc. ) Artist from all these Genres working together can create beautiful transformative environments.
And I would love to see everyone on this planet being connected through flow, a collective vision and opening up to their creative potential. This is in my eyes the best way to shape reality and to create harmony from fragmented chaos (or at least some balance.)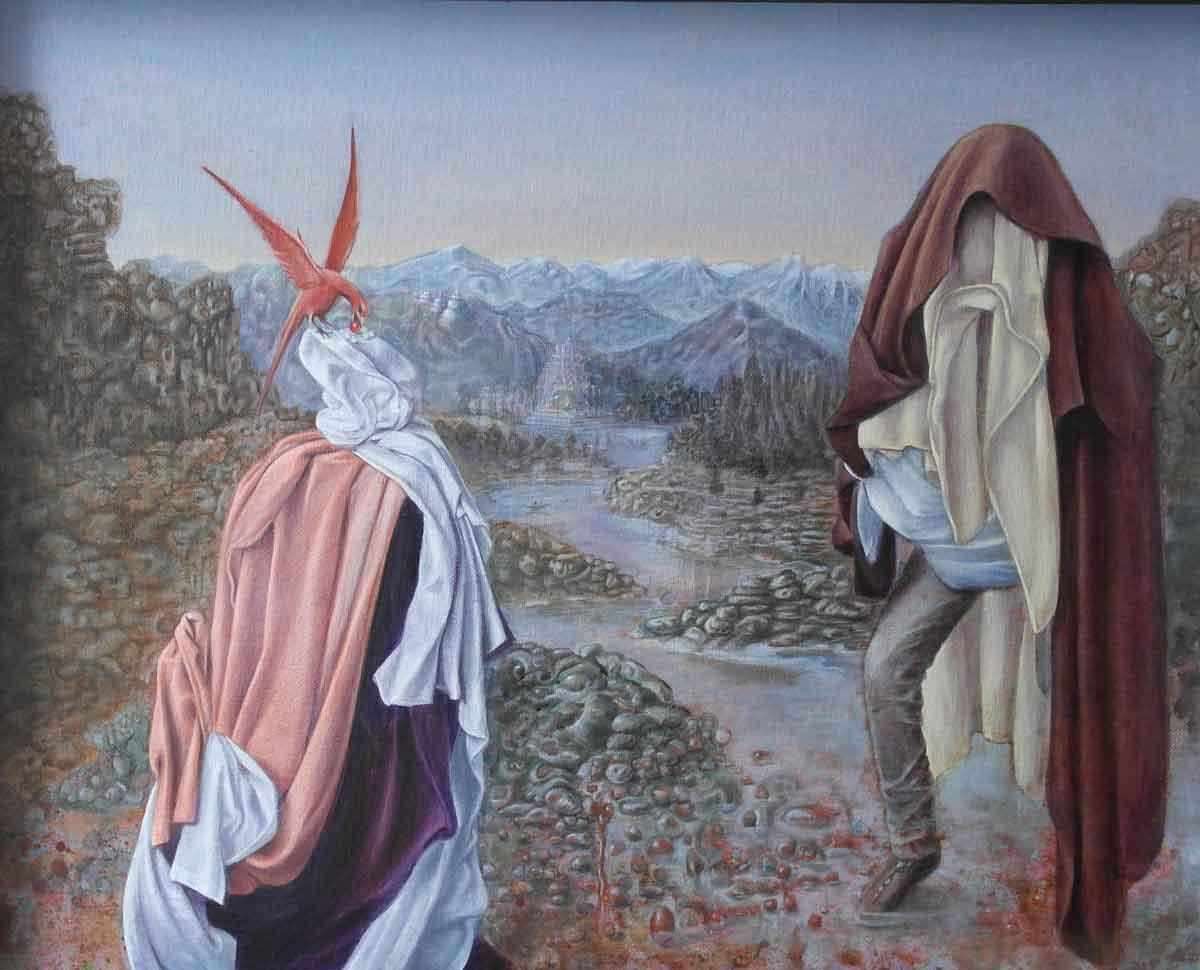 Melos, 2014, Oil on wood
I started to paint out of necessity. As a child, I was clumsy, had trouble performing well in school, felt like a freak and sometimes like an idiot. Creativity was my way to get recognition from my classmates, the teachers, my parents. Later at the Royal College of Art in London I got diagnosed with dyslexia and dyspraxia. In the end making art gave me enormous self-confidence and self-reliance. I was an outsider but I chose to be one. My absolute happiness and refuge is spending time in nature and building wonderful things with clay, twigs and stones, as well as drawing. Art is a sanity sauce to overcome the madness. With imagination, one can cope with everything, burrowing a rabbit hole straight into wonderland.
Namaste! Please feel free to contact me over my facebook site or my website.
Timea
Ps: I would like to thank my friend Sigrid Eyb for editing this text and Sol (Seed of Life) to invite me to contribute to their blog. I love their designs and faithfully carry my sketchbook and pencils in one of their Trishula drawstring backpacks.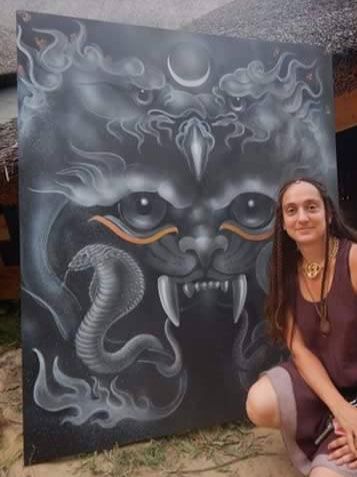 facebook: [email protected]
instagram: timeatallian
http://academyofvisionaryart.com/