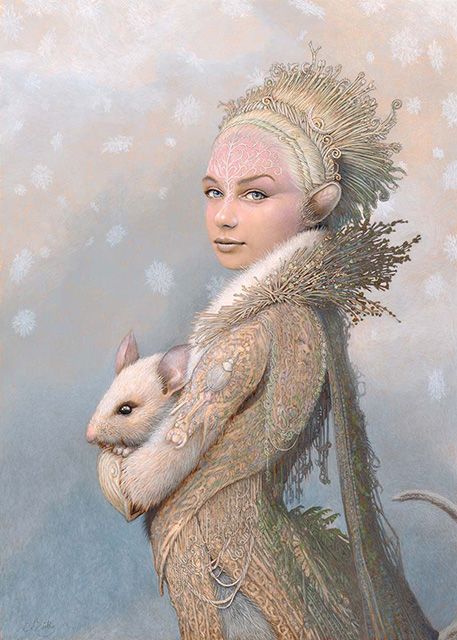 WINTER MOUSE
No introduction is putting well enough the superb talent and feats of the artist that is Ed Binkley.
If we tried to unfold a bit more to the story behind the artistry of Ed, we should start with his meticulously posited attention to the detail- shown everywhere in the constituent elements of his artworks. Blissfully received on the eye, his high-fantasy drawing creations, mixed with folklore motifs, bring all sorts of visually gratifying experiences, leaving you to wonder of higher reality and outer-world marvels.
Ed has been recognized with numerous grand prizes and nominations from the industry's most distinguished fantasy art competitions. His talent was not missed by the director of Star Wars-George Lucas, who is also holding a unique piece by the artist in his private collection.
We interviewed Ed Binkley to find out more about what drove him to become the greatly-accomplished fantasy art past master that we see today.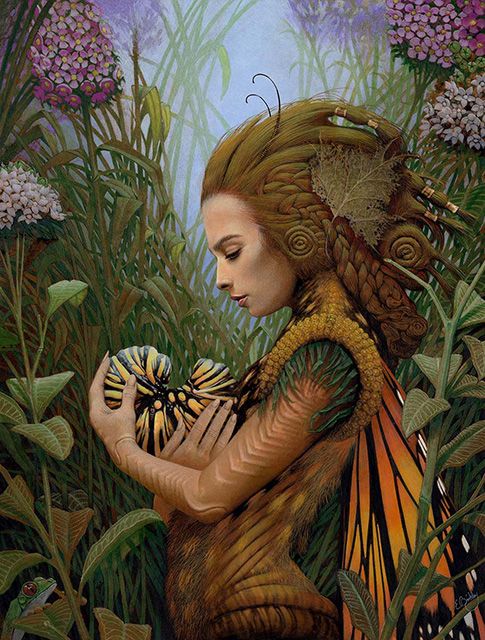 MONARCH
Can you share with us who Ed Binkley is?
I'm a fantasy artist and art Professor. I've taught in art programs at Madison College for nearly thirty years, and I'm happy to say that I'll be retiring from teaching in May; meaning I can then devote my full time and energy to make more artwork!
My work is primarily based on traditional folklore and fantasy literature, from high-fantasy to horror to dream-scapes. I have a lot of narrative interests, so my work ranges across several "categories". Maybe because of that my work is hard to define, but I've always felt a thread running through everything I do.
How did you find out about your artistic talent? What finally made you choose art as a career?
I've been drawing since I was four years old, and I think I never seriously considered a different career path. When I was little, drawing was how I reacted to almost everything that happened in my life, and I've loved drawing strange creatures and species-combinations as long as I can remember.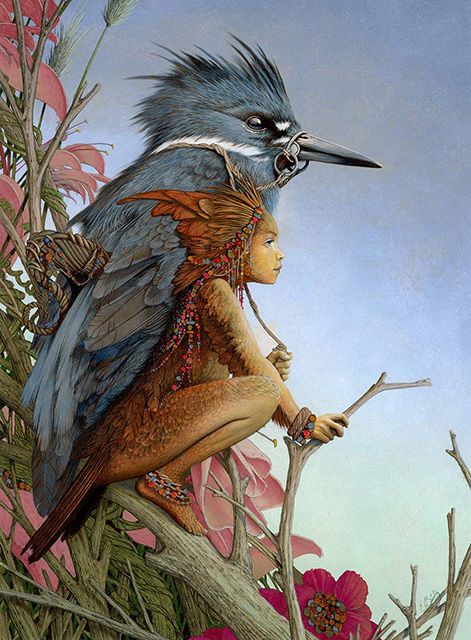 SCOUT
As college approached, my father wanted me to be a concert pianist (I still play a lot) and I started college as a keyboard major, but I was never dedicated or disciplined enough to consider that direction seriously. So I returned to visual art and never looked back. After college I worked for several years as a graphic designer, then as an illustrator, and finally I became a Professor and full-time fantasy-artist. For about the last twenty years I've done only fantasy work, and my teaching job allows me a tremendous degree of freedom to explore the stories in my mind.
How do you find inspiration for new projects? Have you ever run out of inspiration and new ideas?
When I was younger I made the common mistake of believing that I could wait for inspiration to come to me.
As a professional you realize that you simply have to work your way toward "inspiration", and also find ways to generate your inspiration.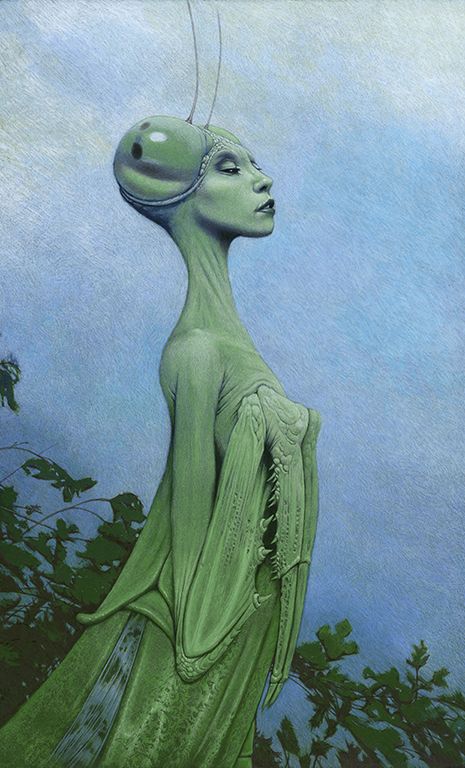 MANTIS
It's a big part of how I teach younger students; most of them want to work in game-dev studios, and the studios won't tolerate an artist waiting around for inspiration. You have to produce usable work every day, so it's important to find ways to keep working and developing ideas constantly. It's an intense creative challenge.
I think because of that intensity and discipline over so many years, I no longer run out of new ideas. In fact I have such a back-logof ideas I want to create I'm always worried about running out of time, not ideas. Once I retire I'll see how that manifests, and there are even MORE ideas that occur to me constantly. It's actually a very fun and gratifying "problem" to have.
You are known as a fantasy artist. We are curious to know about the creative process you go through to make a finished artwork?
Good question; I almost always start an image digitally, and I'm a big proponent of digital sketching and prep. Working on computer, especially in the sketching and planning phases, allows so much freedom to experiment and do variations. I take chances in a computer sketch that I might never attempt in traditional media, plus I can create iterations and then return to a previous idea if an experiment flops. The simple use of layers alone, which is basic Photoshop stuff, means if an idea fails I just discard that layer and try again, keeping my base drawing intact and undamaged. Also there are digital ways to generate ideas from scratch, returning to the "inspiration" question above.
I finish images either digitally or in traditional media. My favorite traditional medium is colored-pencil, but even then I'm working over a rough sketch that was developed digitally. And I discovered accidentally several years ago that several matte-finish digital papers take colored-pencil beautifully! It's a very happy marriage of the two technical worlds I live in.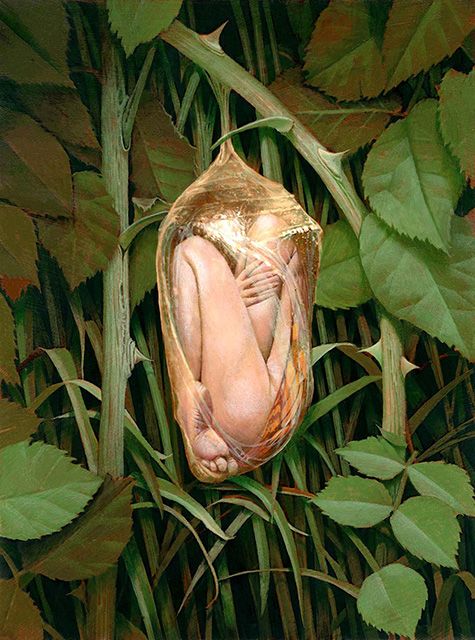 CHRYSALIS
Did your drawing style evolve over the years?
Yes, I've been around long enough that it has changed dramatically, and several times. Again when I was young I made the mistake of trying to imitate a popular style at the time, which only handicapped me and kept me from actually learning how to draw.
When I finally came around to real drawing I was in my thirties, so that "style infatuation" cost me a lot of time.But eventually I went back and got the foundation skills I had skipped, and by then I had also learned how to work hard.
When those combine, your own "style" will develop and will not simply be an imitation of someone else's creativity. That was a hard lesson for me since I was pretty good at imitation, but those years of foundation work were what eventually let me find my own vocabulary.
The last couple of developments in my approaches have involved mostly trying to determine the best look for my ideas. So now I really approach a new piece with the concept driving the technical approach. If colored-pencil is the best way to say something, that's what I do; if digital is better, I do that; if charcoal is better... etc.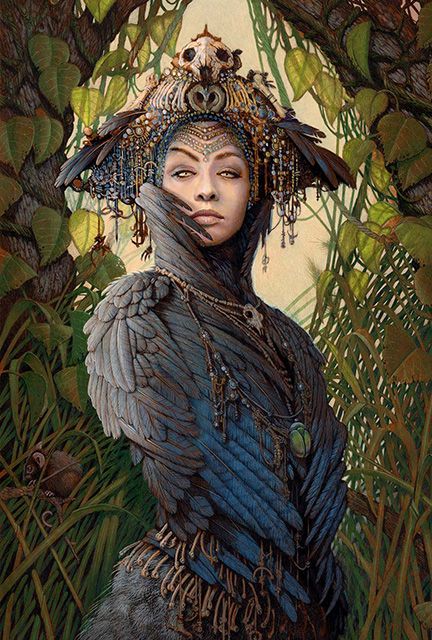 CORVID PRIESTESS
This year most of us have spent staying and working from home. Has the current social situation affected your work in 2020?
Yes, it has affected mostly my teaching. Everything went fully online at my College back in April-May, and it will remain so through my retirement. It was not a difficult transition for our Program since we were already teaching a lot of stuff digitally, through video and PDF lessons, but it was a scramble to get the remaining sections online. Students were wonderful, though, and worked with us whenever tech problems came up. So overall, I think we were more fortunate than most people.
I miss the person-to-person contact I experienced at conventions, so maybe that's the biggest down-side to the isolation. But hopefully 2021 will mean changes for the better, and eventually we can get back to some form of normal. As always, though, I think we need to be open to redefinitions of "normal," and still find ways to be creative under new circumstances.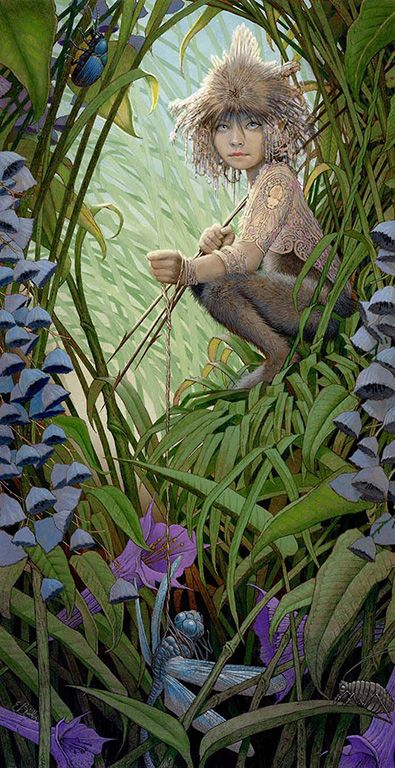 DRAGON HUNTER
Do you have any future projects in mind?
Yes, always. I always have a dozen or two-dozen projects going at the same time, and I move constantly between them. I "retired" from freelance and contract work several years ago so now I'm concentrating on my own concepts, and I'm having probably too much fun doing that.
Still I'm finally at a stage in my work where I can't wait to get up each morning and get back to work. As I mentioned earlier, I have more ideas than time, so that's a good place to be...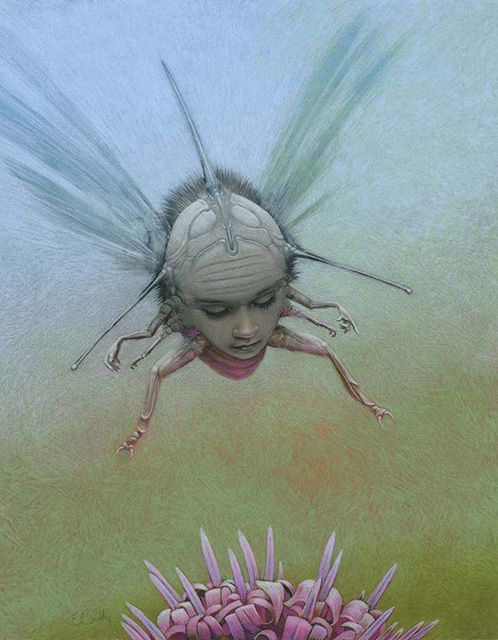 LADYBUG
What would your advice be for new and upcoming artists?
Several suggestions --
1) Learn the traditional skills; solid drawing skills, basic design principles, color theory and, if you really want to be a fantasy artist, realistic figure drawing. There's no substitute for simply learning anatomy, gesture, and body-mechanics, and it's the most frequent missing-piece that I see in younger artists' work;
2) Develop an uncompromising work ethic; every successful professional artist I've ever known has been a constant and hard worker; dedicate your time and energy to learning and improving.
3) Once the pandemic declines, get out there! Go to conventions, get to know the artists whom you admire -- Spectrum/Planet-Comicon, Lightbox Expo, DragonCon, just to name a few -- and sign up for folio reviews if a convention offers it. Remember too that if an artist is at a convention, he or she probably really enjoys talking with people, including young or early-career artists. Approach them and ask about their work.
4) Study the fantasy art annuals and books, and find some heroes -- IBA, Spectrum, ImagineFX, etc. And eventually start submitting yourwork. They're competitive, but don't give up; keep re-submitting as your work improves each year. For example, my work has been in a lot of
"Spectrum" annuals over the years, but I applied for three straight years before I got in the first time. If you start getting in, though, It's pretty good verification that you are going in a good direction.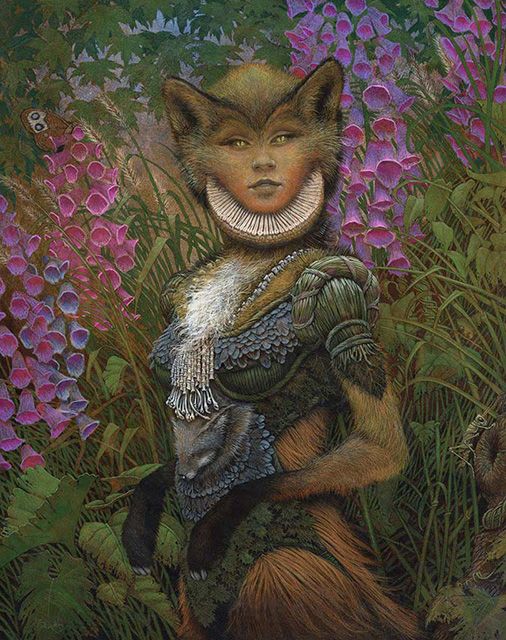 RED PRINCESS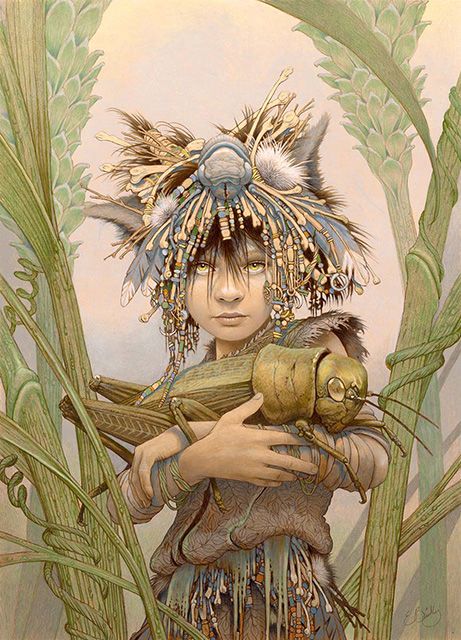 CRICKET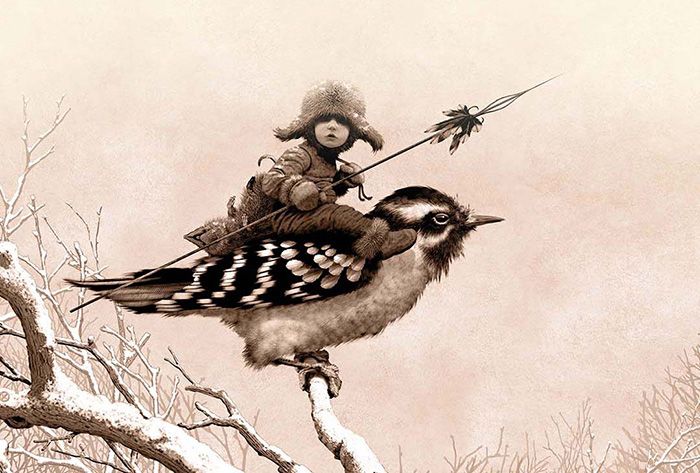 SHREW HUNTER
To find out more about Ed Binkley's original artwork work and prints : CLICK HERE