Fugue and Variations
The real journey to becoming an artist goes through the stages of one's personal development. Ignacio had a very early surge of creative talents, growing and evolving parallel to his professional scientific career as a biologist. Driven by his understanding for the absolute unity of all things, he eventually found a complete expression of himself in his abstract paintings, multi-layered with concepts, figures and dazzling surrealistic details.
In this interview, Igancio opens up about his personal path to becoming the astonishing artist that we see today.
Tell us more about the artist Ignacio Nazabal...
I was born in 1962 in Havana, Cuba. This was a significant decade for art and everything else, but I didn't realize that until later on. I still keep several drawings from that time when I was a young child, only four years of age. This was when I first started to enjoy creating live drawings of cartoons or movies I saw frequently on TV, using only a pencil and a piece of paper. It started off as a hobby, but afterwards I continued to improve my technique by looking at pictures from the Renaissance or classical paintings and sculptures in one of my father's books.
In secondary school, I joined an aficionados group where I received a little bit of art training. The non- academic preferences of my teachers, however, was a little bit distant from what I liked to do at the time; it was something similar to Naturalism and Classical realism, and it wasn't for me…
I was 20 years of age when I graduated with a bachelor of science in Biology from Havana University. Afterwards, I spent 12 years of my life working in a cytogenetic lab. In the meantime, I did not stop drawing and painting In 1996, still working as a biologist, I was admitted to the San Alejandro Art Academia and I graduated as painter in 2000.
Currently, I live in Havana with my wife Marisela- a master in biochemistry- and my two sons: David - economics student- and Yoan - an IT engineer.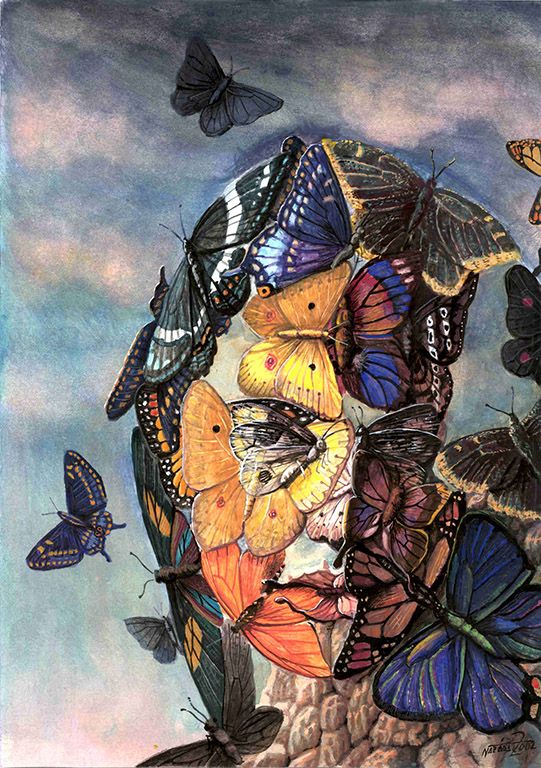 The Wings of the Dust
How did you get into art?
As I said earlier, I have always loved to express my ideas and feelings through drawings or paintings; however, I thought that I should keep this natural gift just as a hobby. This is mainly why I decided to study biology in university in the first place... but also because I loved the sea and marine biology as a subject.
In 1990, the economic situation of my country became very difficult and my salary as a biologist became scanty… My son Yoan was born and I needed to increase my income somehow, so my "natural gift" came handy.
I began trying to sell my drawings in popular arts fairs that were open at the time and I had some good success. The difficult circumstances were pushing my imagination, and out of nowhere, I would just come up with original ideas; they would just flash into my mind. My creations matured rapidly and my style was developing naturally. In 1996 moved by all this, I matriculated in the Art Academy.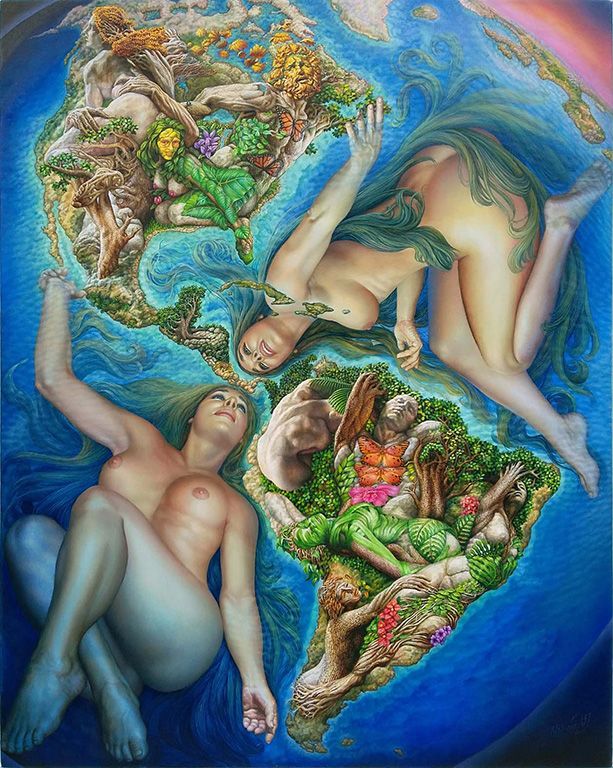 The Kiss of the Oceans
What are the biggest influences to you as a surrealist painter?
I remember that when I was still very young, my father had pictures hung on the wall of two paintings by Salvador Dalí: "The Christ of San Juan de la Cruz" and "The Cadaqués Port". Back in the day, I knew Dalí and I realized that Realism, Naturalism and Modern Art can co-exist and merge; one example is Surrealism.
After having seen some Salvador Dalí catalogues, I was especially impressed by those works where the painter builds figures from other unrelated subfigures, manipulating the eye of the observer in optical illusions. His painting: "From How the Swans Become Elephants" moved my imagination profoundly.
Years later, influenced by Dalí while trying to do something commercially more attractive, I painted several works picturing women made of fruits or other natural elements. They were similar to the works of Giuseppe Archimboldo, even though I still did not know of the Renaissance painter at the time.
In the 90s, I mixed the human figure with bricks or rocks and ruins in my artworks, maybe because this was what my subconsciousness would apprehend from the world around me. Also, I painted people with female faces and bodies wrapped in white sheets. One drawing teacher told me that those works had common points with the surrealist René Magritte, and he gave me a catalog of the Belgian painter.
This was a revelation to me.
From that moment on, my work was greatly influenced by his.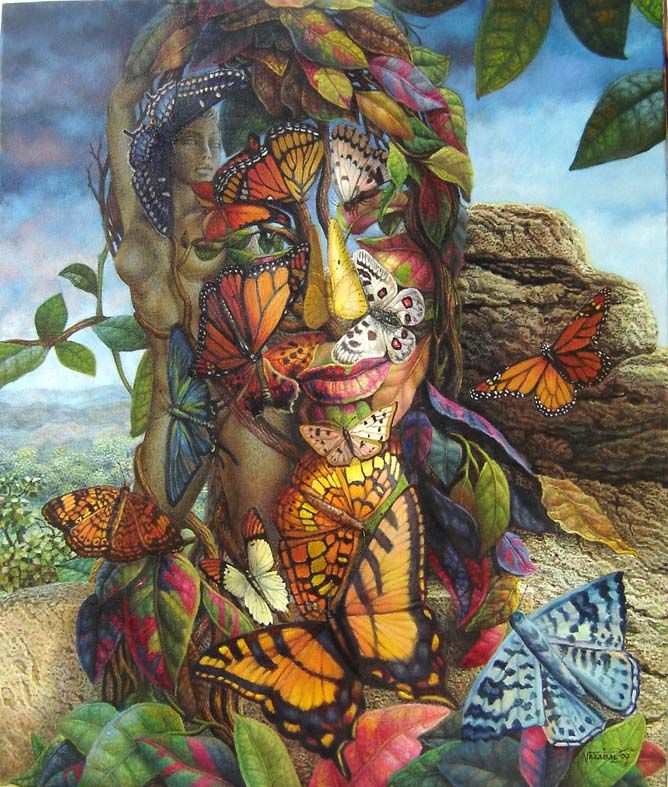 When Chance Discovers You
How do you find new inspiration for your projects?
There are a lot of ways! Sometimes looking at the nature around me, and sometimes just seeing a beautiful image or a photo can inspire me.
A simple little detail in any one of them could turn into a new source of inspiration, too. Occasionally, when I am painting an element in a work, I come up with several new ideas for future paintings. Oftentimes, the idea would come to my mind without a reason or an explanation, as I said before. I usually write down these ideas on a piece of paper so that I don't forget about them. Most of the time, my best ideas are born without any intention. When I work on a painting with a theme or a commission project, I try to leave my mind free for the idea to come alone.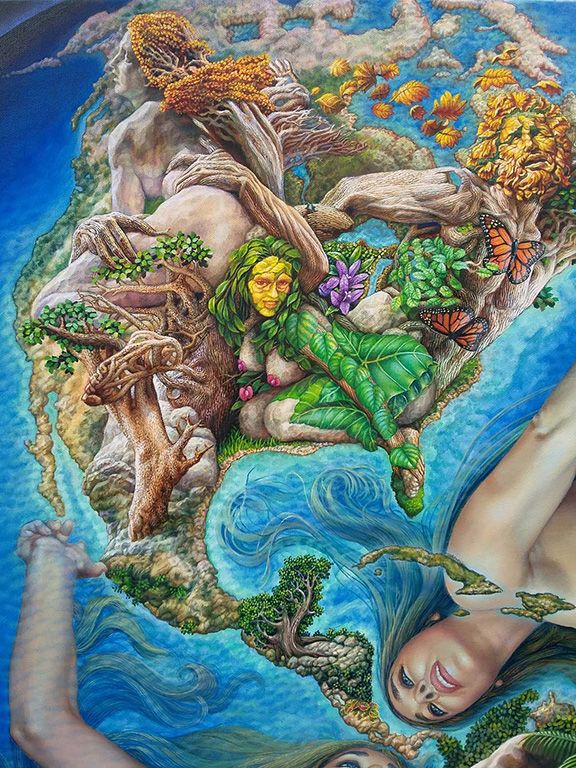 Detail of the Kiss of the Oceans
What is the artwork that you are most proud of and why?
I especially like one of my artworks called "The Freedom of Thinking"; (oil / canvas; 150 x 125 cm; 2003). Influenced by Magritte, I tried to play with the different focal planes of the painting, placing the woman figure in three different spaces in the profundity of the landscape. The idea was that based on the intention of the observer, one can see her complete image in the foreground, or a divided one into three planes that move away on the horizon.
Another work I feel pleased with is my recent painting: "Fugue and Variations" (oil /canvas; 125 x 100 cm; 2018). It represents the phases of a metamorphosis of plants that turn into flying white doves, as if their spirit was released.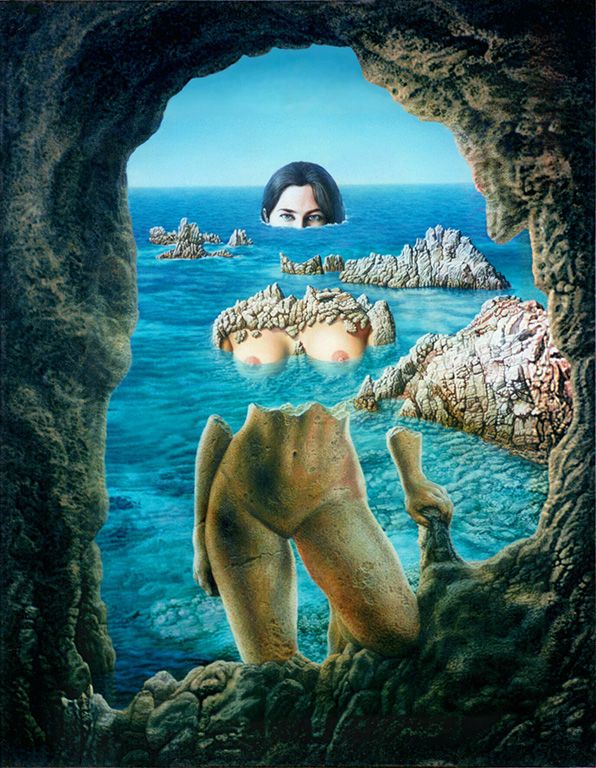 Fugue and Variations
I should mention my most recent painting: "The Sublime Consequence" (oil / canvas; 100 x 125 cm; 2020). Due to its color and composition this one is somewhat different from my previous works. Despite having created it myself, I really enjoy looking at it more than I do with others.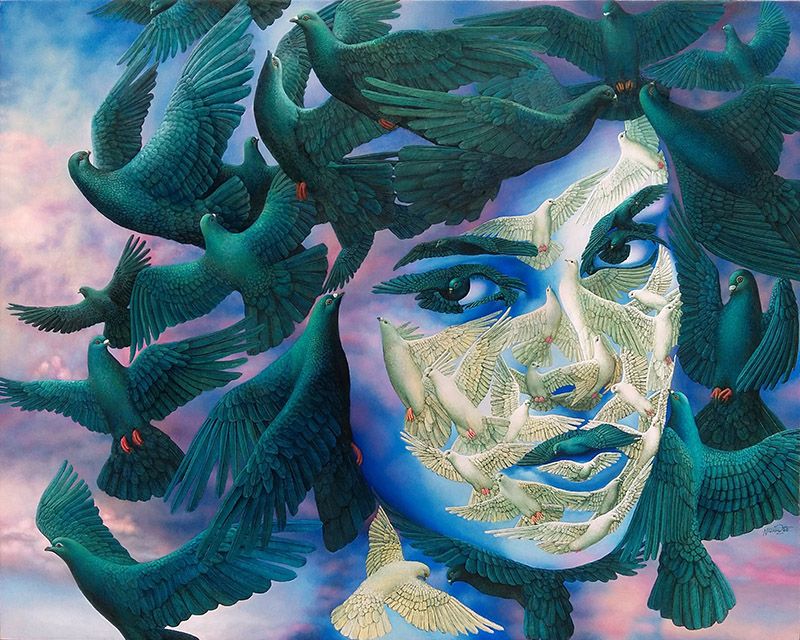 The Sublime Consequence
What is the message that you would like to send with your paintings?
I think that my works send a message of union and identification of the human being with Nature and the Universe as One. I believe that through my paintings I express the best and the most beautiful aspects of our feelings, desires and thoughts. Even in those works of mine, where I represented the fight between opposite elements, I solved it with harmony and beauty.
What are your future plans for new projects?
At the beginning of this year I was planning a personal exhibition in my country, with the idea of later moving to Spain and Panama. Unfortunately though, because of COVID-19 and the current situation, I had to postpone my plans. Now I keep painting as I usually do, waiting for a new opportunity to do my personal exhibition.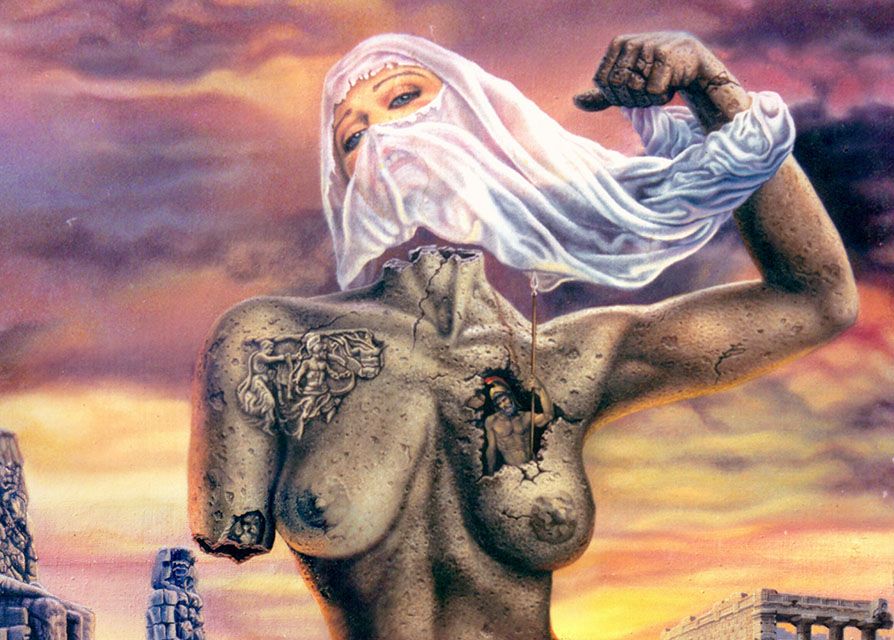 The Conquest
What advice would you give to new upcoming artists?
I think that the most important thing for all artists is that their work shows sincerity. They must work on the themes that they enjoy the most and that reflect what they need to express from within themselves. There are artists who only try to be trendy and to pursue new forms of plastic expression by imitating other artists, rather than having their unique vision. This way they never achieve their own stamp or communicate their own artistic ideas; which is what real art is all about. It happens that their work is only an echo of the authentic Art.
Another important thing for new artists is to search for promotions using all available means. They should try to make frequent exhibitions whether they are collective or individual. Social media and popularisation on the web are also very helpful, in my opinion.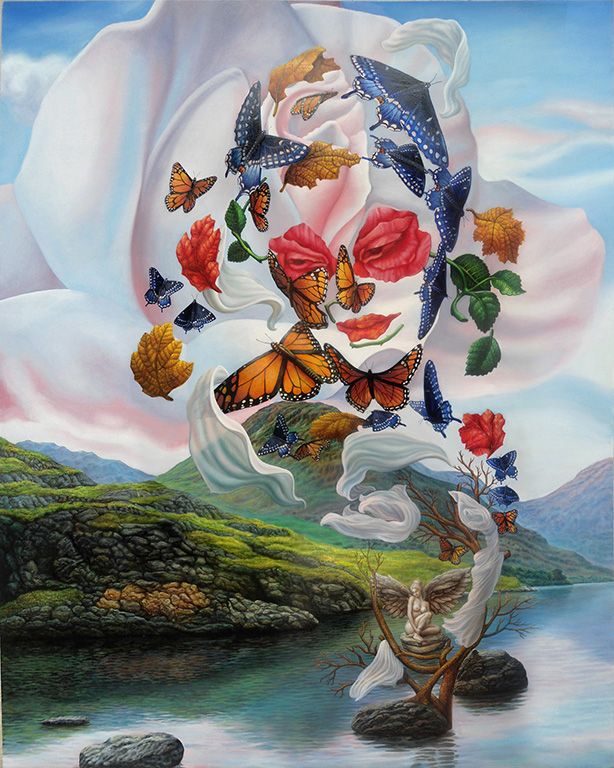 The Wind of the Time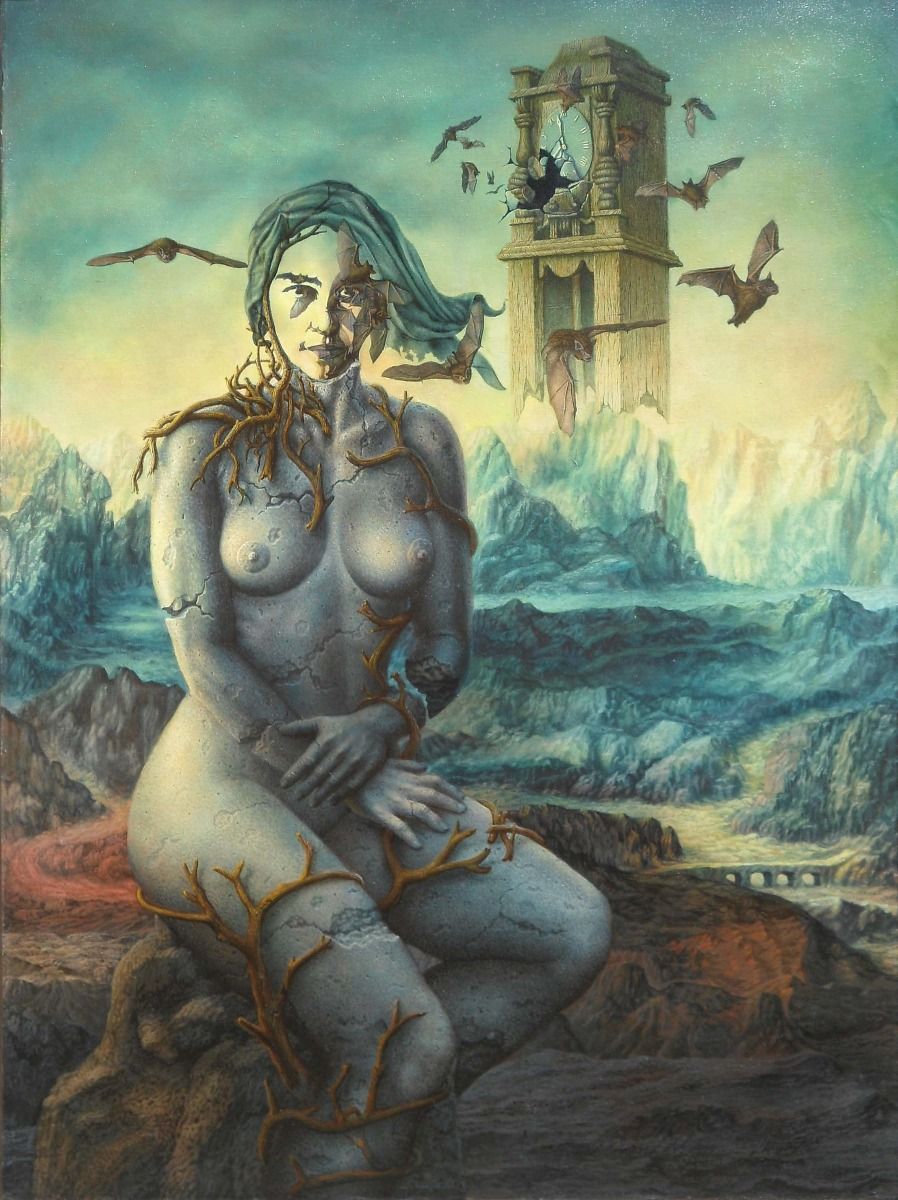 Point of Return II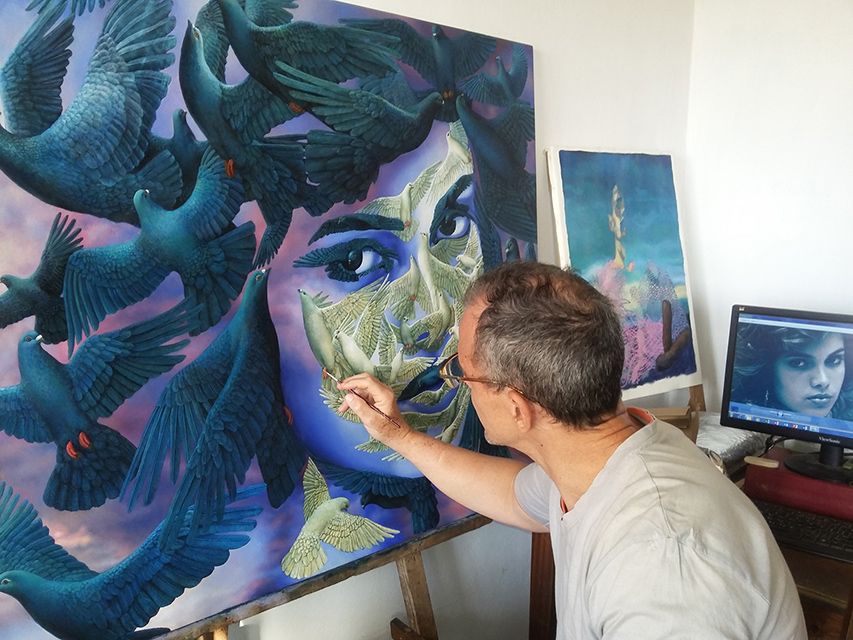 Ignacio Nazabal Working on The Sublime Consequence
Visit the full collection of Jorge Ignacio Nazabal's of paintings : HERE