Meet The Artist: Robert Steven Connett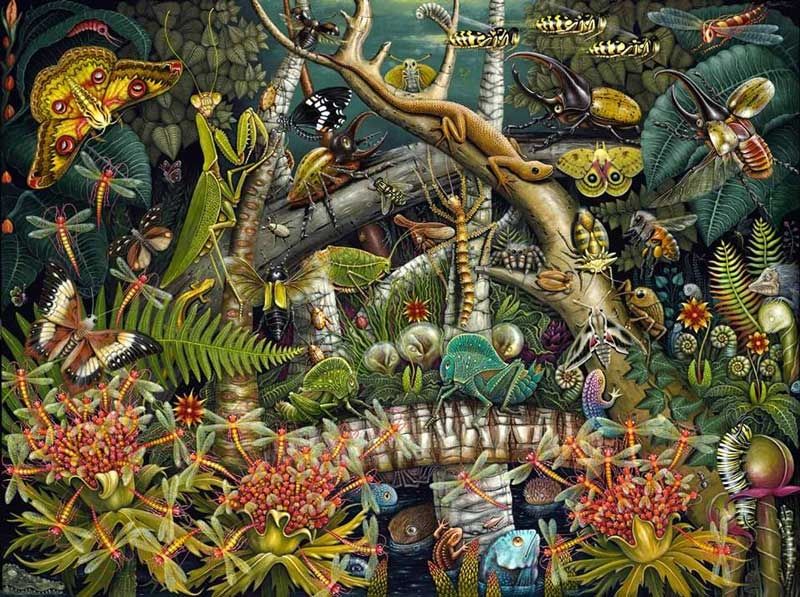 "MANTIS MUNDI" - Robert's most recent large painting
Robert Steven Connett is a self taught artist currently living and working in Los Angeles California. He takes his current inspiration from biological forms, both flora and fauna, micro and macro, land and ocean dwelling. Connett uses acrylic paint to portray dark and bizarre worlds teaming with diminutive life.
"My work is a collection of things that I find appealing and engaging. I paint things that enchant me, and I paint because I enjoy seeing my imagination come to life."
His images present a myriad of creatures, from aquatic organisms like ciliates, shrimps, Jellyfish and crabs, to moths, butterflies and rainbow-colored insects. Each organism is rendered with excruciating detail, inspired by studies from his own collection of specimens, books of scientific illustrations and photographs, all of which are transformed by his imagination.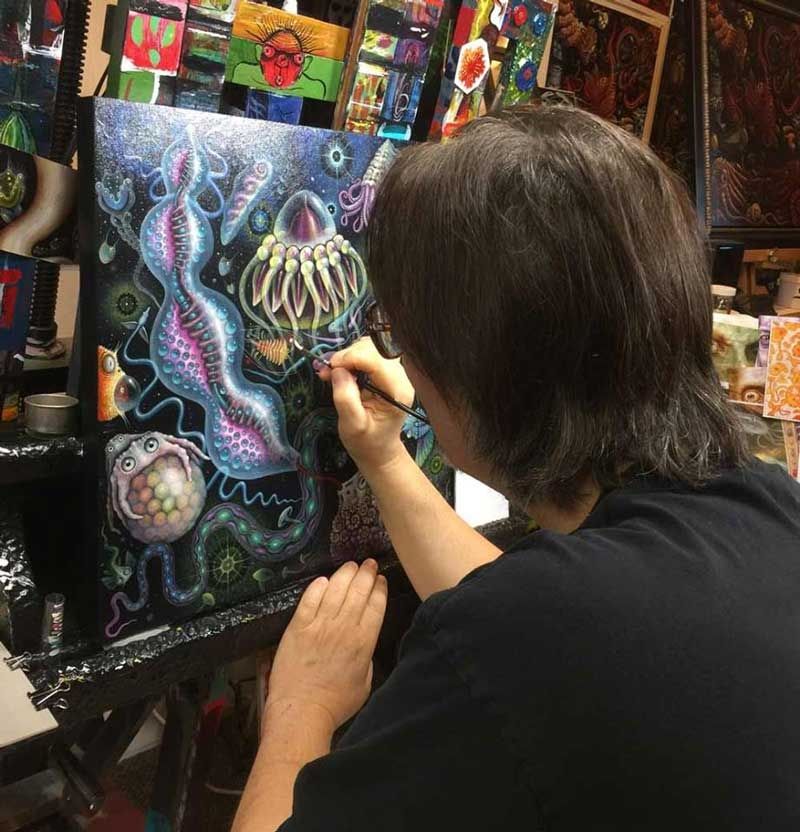 - How did you start making art?
At an early age I learned to draw as an outlet for self expression. I did poorly in school. I was often depressed. Throughout my childhood years I expressed myself by drawing pictures with pen and paper. Drawing lightened my moods. This grew into a permanent relationship with making art.
Initially, making art, (in my case drawing first, painting later) was a way for me to externalize, and mollify my anger, frustration and depression. The more intense these emotions, the more I was prone to draw, almost trance like at times. Later in life I became obsessed with the idea that doing anything else (other than art) was wasting my "true calling" in life. Later in life, when I finally became a full time artist I began to paint more "objectively" and my paintings became less catharsis, being somewhat "tamed" by my years and accomplishments. I consider my work more mature.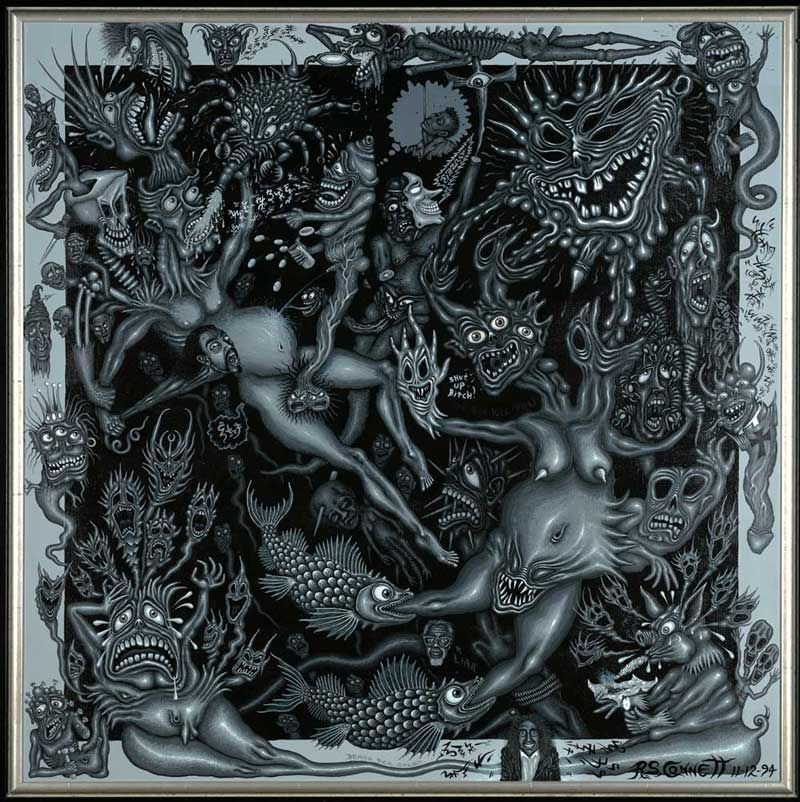 "BLACK HEROIN" - 1994.
- Where do you find inspiration from?
My sources of inspiration are always within me. It Is how I see things. When I look into a pile of rocks I might see images of creatures, when I look at the grass I see jungles filled with life. When I look at the sky in the day I see fathomless seas filled with many fish. When I look at the night sky, I see that same sea, but one filled with glowing microscopic organisms.
- Who are your biggest influences?
My first inspiration as a boy of 10 was Hieronymus Bosch. The complexity of his work was a huge inspiration for me as a child. I'm influenced every day by artists too numerous to name here, many contemporary artists, for who I have great admiration, and derive inspiration. Another big influence is the work of Ernst Haeckel. His biological illustrations are highly influential in my microbial works.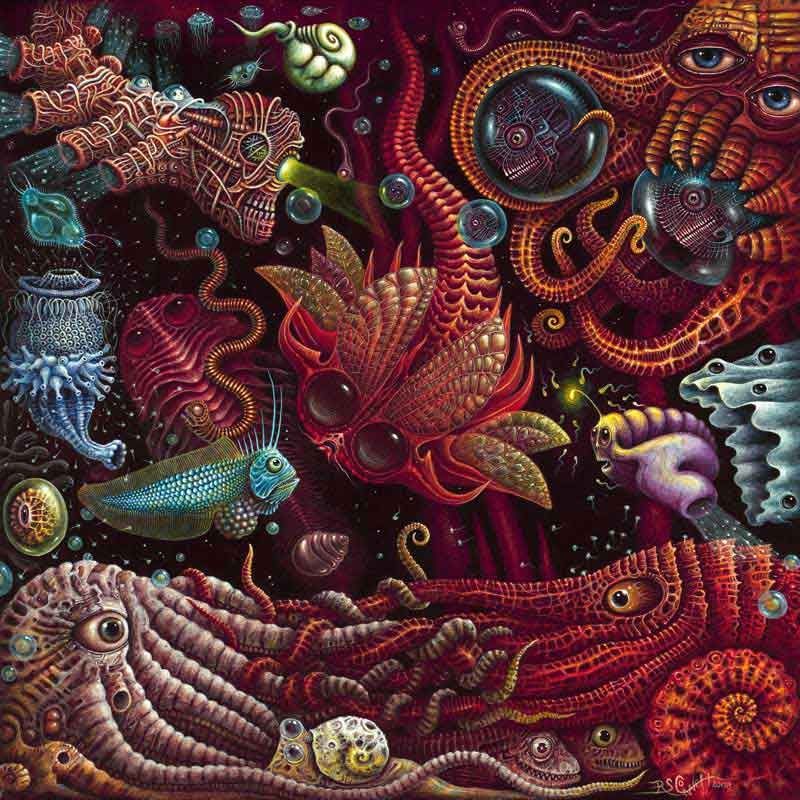 "CRUSTACEAPODS" - 2008.
- How would you describe your work and the message of your art?
There is no one message in my work. There are many … There are as many messages to see and think about, as there are eyes to see it, and minds to interpret what they are seeing. If you see a message there, then that IS the message. What I'm saying is that I paint what I paint for myself, and I love what I see when it is finished. Perhaps you see the same thing that I see in my work, or perhaps something different. It really doesn't matter as long as what you see is interesting to you.
- Is there an artwork that you are most proud of?
My favorite painting is always what I'm working on now. This can very quickly devolve into my least favorite painting if I am not satisfied with what's going on. It's often "agony and ecstasy" with me. That's really not your question … but it was my minds instant reaction to it. The truth is I can't find any one painting that is by far my most "proud achievement." It's like asking a parent which child they love the most. All your children have things about them that you love, but also things that you are not happy or satisfied with.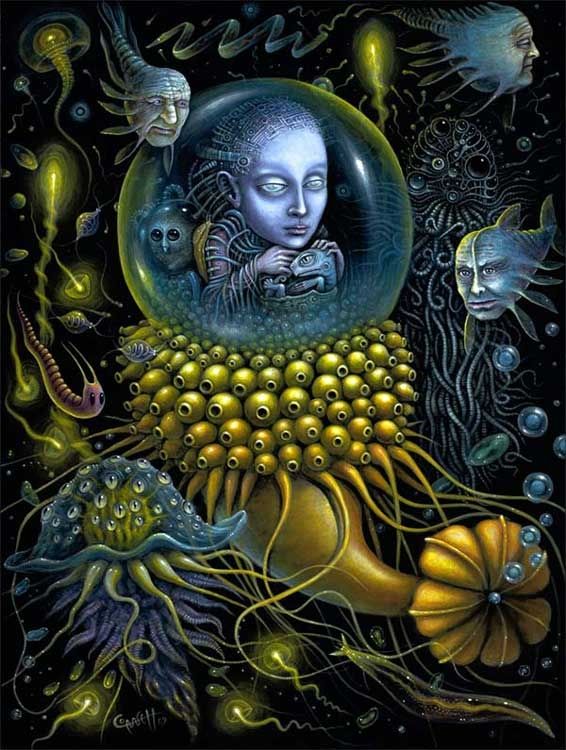 "MICRONAUT" - 2009.
- How do you know when a work is finished?
One day it just is. Most of the time I see it coming. Some times it surprises me. The important thing is to finish. In the last 15 years I have only 2 or 3 unfinished works. Those I considered "lost causes." However, years later I see that they would have been interesting paintings if I had not become frustrated and stopped working on them.
- Do you have any hobbies?
Many … Possibly too many. They can distract me from my most important work. Making art was my "hobby" for many decades. It was always more than a hobby in my heart. However, In my humble opinion, if you don't do something full time, it's a hobby. I used to be an insurance broker in San Francisco. I eventually left that business behind and became a full time painter. Now, as a hobby, I collect insects from around the world. I have over 200 mounted specimens. I'm a collector of anything that peaks my interest. Stones, paintings, (other peoples work) old bottles, a petrified cat, dried fish, old bones, pine-cones, masks, toys, animal skulls, old dolls, paper weights, leaves, sea shells, sculptures, books. The list evolves. Mostly beautiful junk.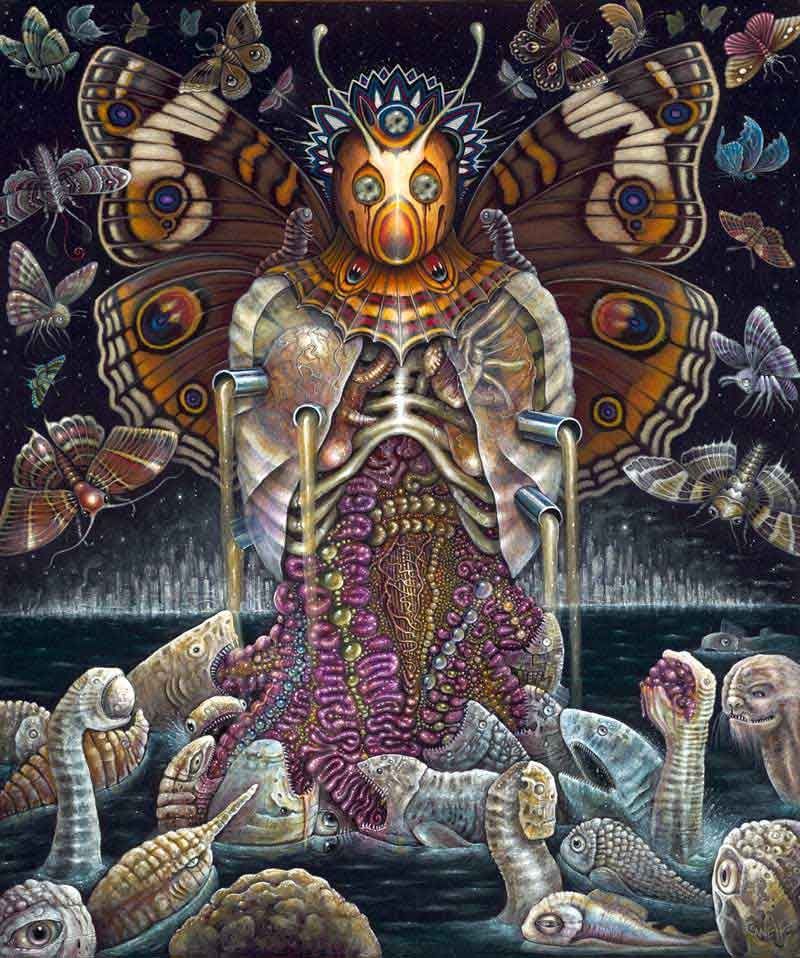 "LEPIDOPTERA" - 2012.
- What are your plans for the future?
Coming up I have several group shows and a solo exhibition as well as a museum show at the Muskegon Musuem of Art. Specifically, the group exhibitions scheduled so far this year are at Arch Enemy Arts in Philadelphia, the 13th Anniversary of "THE BLAB! SHOW" at COPRO Gallery in Santa Monica California, an exhibition called Alchemy and Shamanism: Master of the Metamorphism at a gallery outside of Paris. Currently I have a few paintings in a group show called "Animal Kingdom" at the William Baczek Gallery. I have a big solo exhibition scheduled with LA LUZ deJesus Gallery in Hollywood, Calif. … That one is going to take a lot of time to prepare for.
It takes me a long time to complete each painting for these exhibitions. I average 100 hours on every painting, and often go 3 or 4 times that long on one piece. I'm slow. I think I enjoy myself too much. I'm a perfectionist working at a trade where perfection does not exist. I often struggle with my work. If this is because I have not had proper training, (I'm self taught) or because it's simply my nature, I do not know. With me, it's always either ecstasy or agony when I work.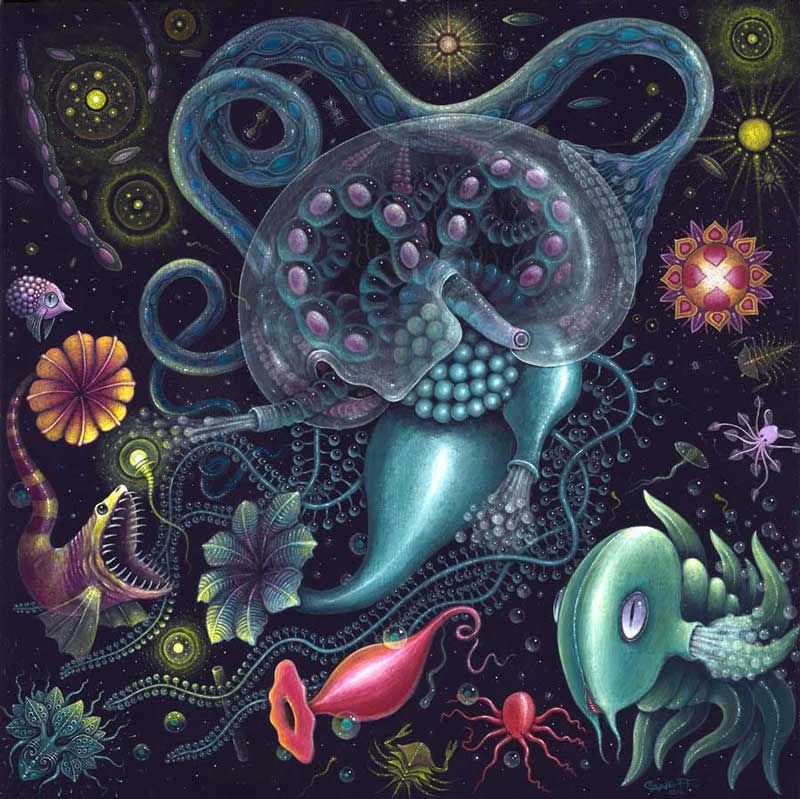 "SIPHONOPHORE" - 2016.
- Is there any advice that you would like to give to your fellow upcoming artists?
Determination, discipline and an intense need to create your unique vision is necessary. Work hard. Work smart. Don't get distracted. Don't dillydally. Don't be too precious. Don't compare yourself to anyone else. Let your finished work go - don't horde it. Work your ass off. Every day. Never lose your momentum. Make your art the most important thing in your life.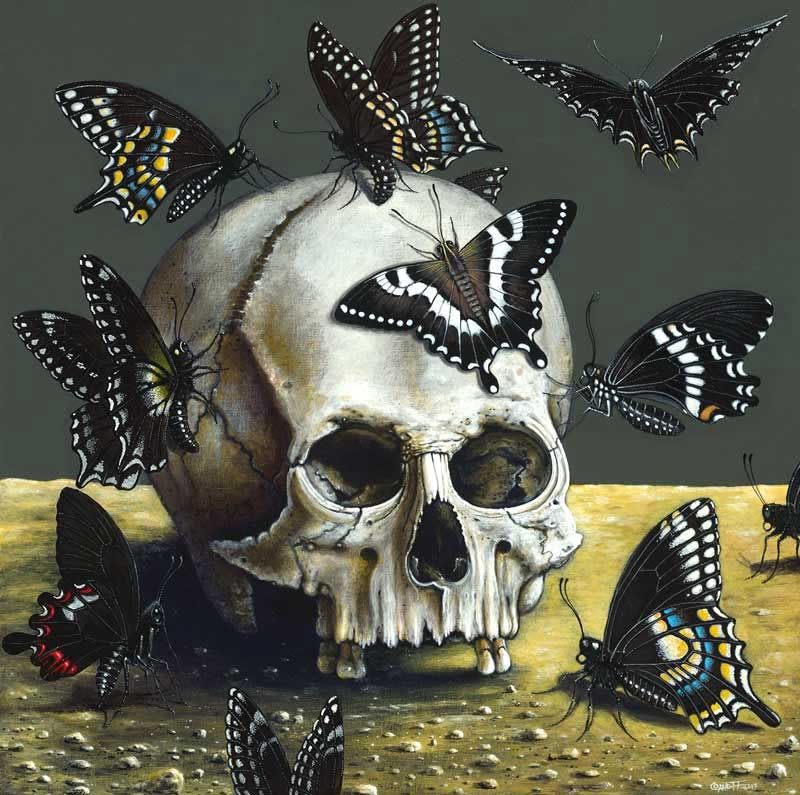 "DARK ANGELS" - 2017.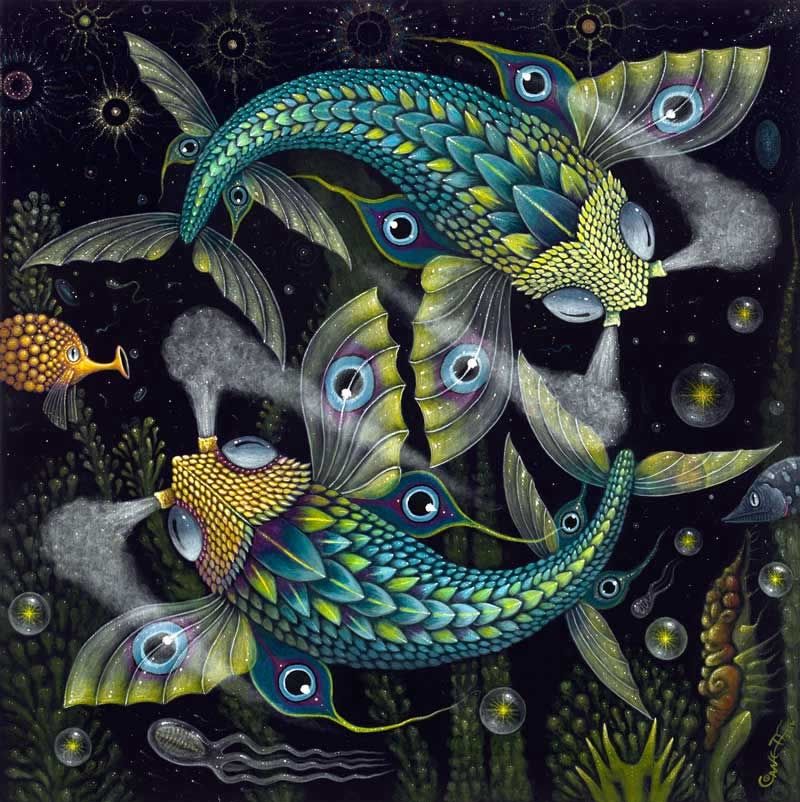 "PLANKTONAUTS V" - 2016.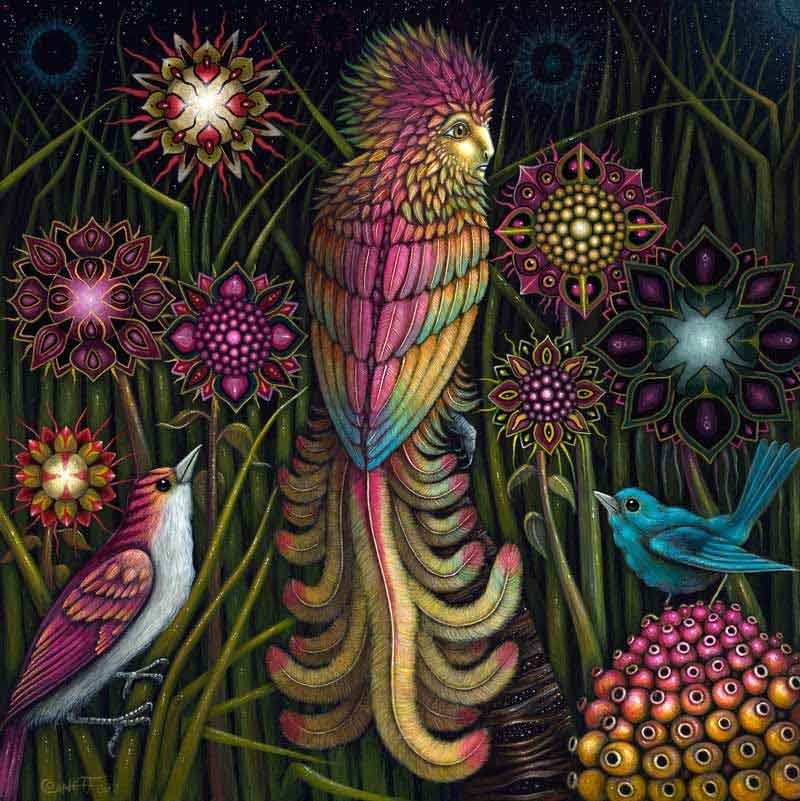 "BIRDS" - 2017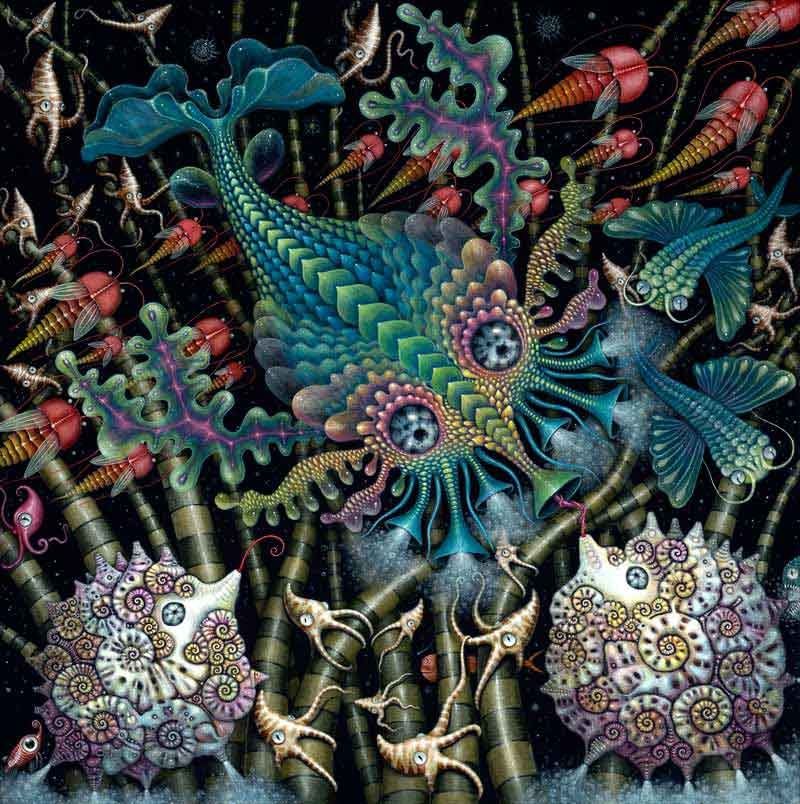 "BLOWFISH" - 2017.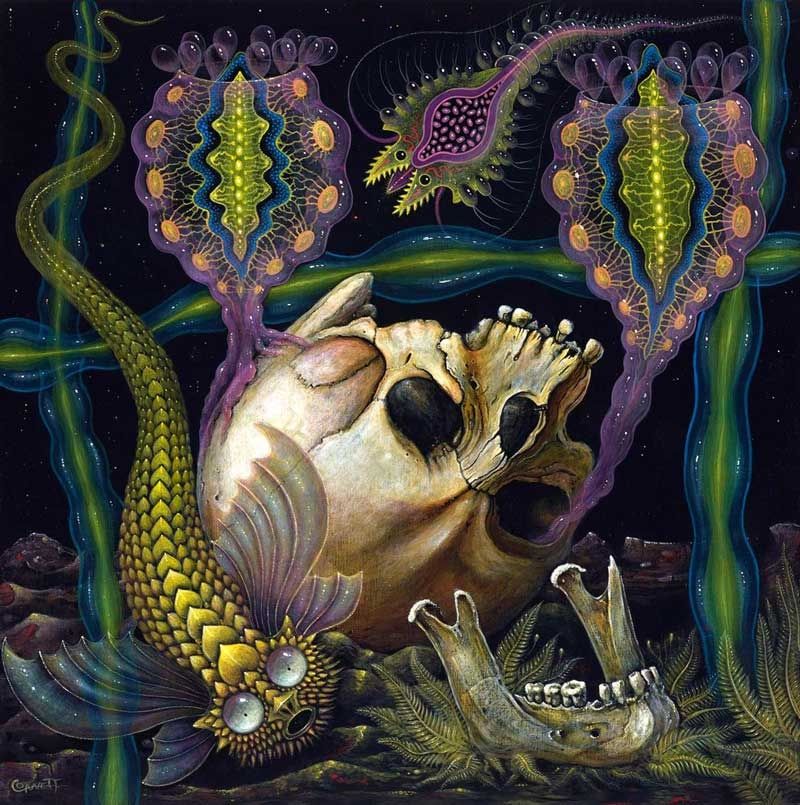 "VANITAS" - 2017.
All images from Robert's website.