Meet The Artist: Julien Lechelle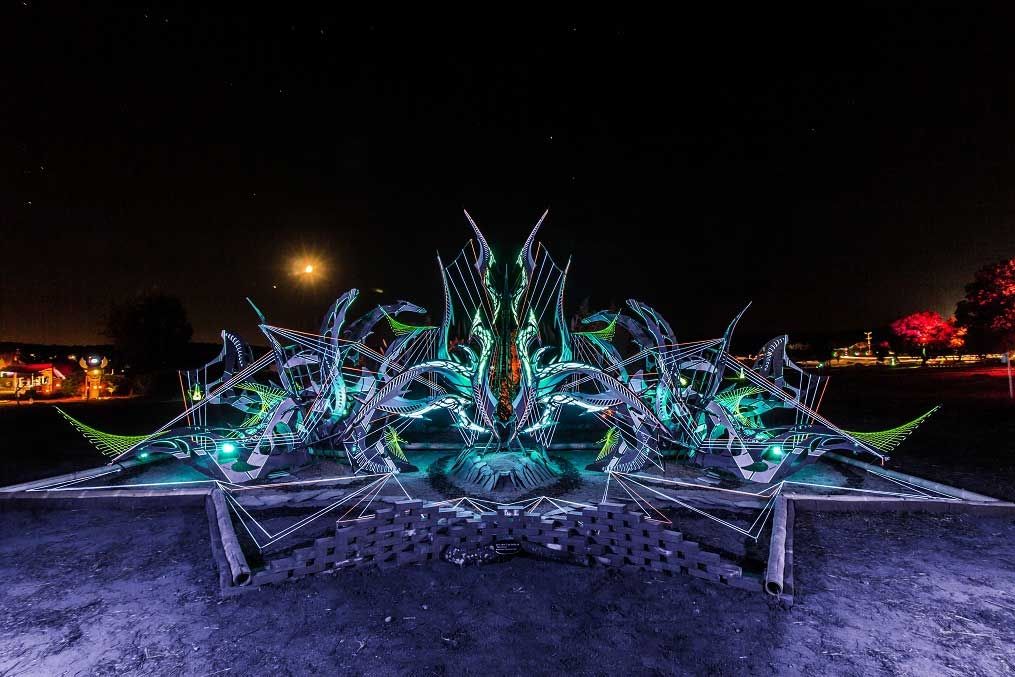 Boom Festival 2018.
Julien Lechelle is a french artist who works with wood and steel to create some amazing sculptures, inspired by natural shapes. He likes working in the nature or in abandoned places where his installations can reveal their true charm after nightfall. This artist is known for his sculptures Protéus and Géonésys which he gladly showcases at festivals.
Julien Lechelle was born in 1979 in a little town called Niort in France. He studied physics and mathematics but was always attracted to art, music, and anything that could help him express his creativity.
He says that he has refused many jobs because he didn't want to be a part the destructive system, before he found a way to do something that really interested him. He worked on converting trucks in motorhomes, learning woodwork and electricity for 10 years. That was the only real job that he had which allowed him to have some free time for himself and gave him a pleasure to build his own motorhome since he was living in the truck at the time. That was a way for him to quickly become independant.
Julien's latest motorhome realisation
- How did you first get into art?
I've always drawn when I was a teenager, but I've mainly played guitar. With my friends, we spend our youth around Metal music and graffiti work in our little town. We spent years and years drawing and playing music, I'm sure this period has influenced me for the rest of my life, to always have an artistic activity, something greater than just the modern life wanted to enforce us to. That was really my first kind of art expression.
But I really got into art 4 years ago, with my first piece Protéus, it was just meant to be a collaboration with friends at the beginning, for just one event, but I saw so much possiblities for it. I prefer organizing my life to spend the most time possible to go on this adventure. This piece was for me the beginning of an other way of life.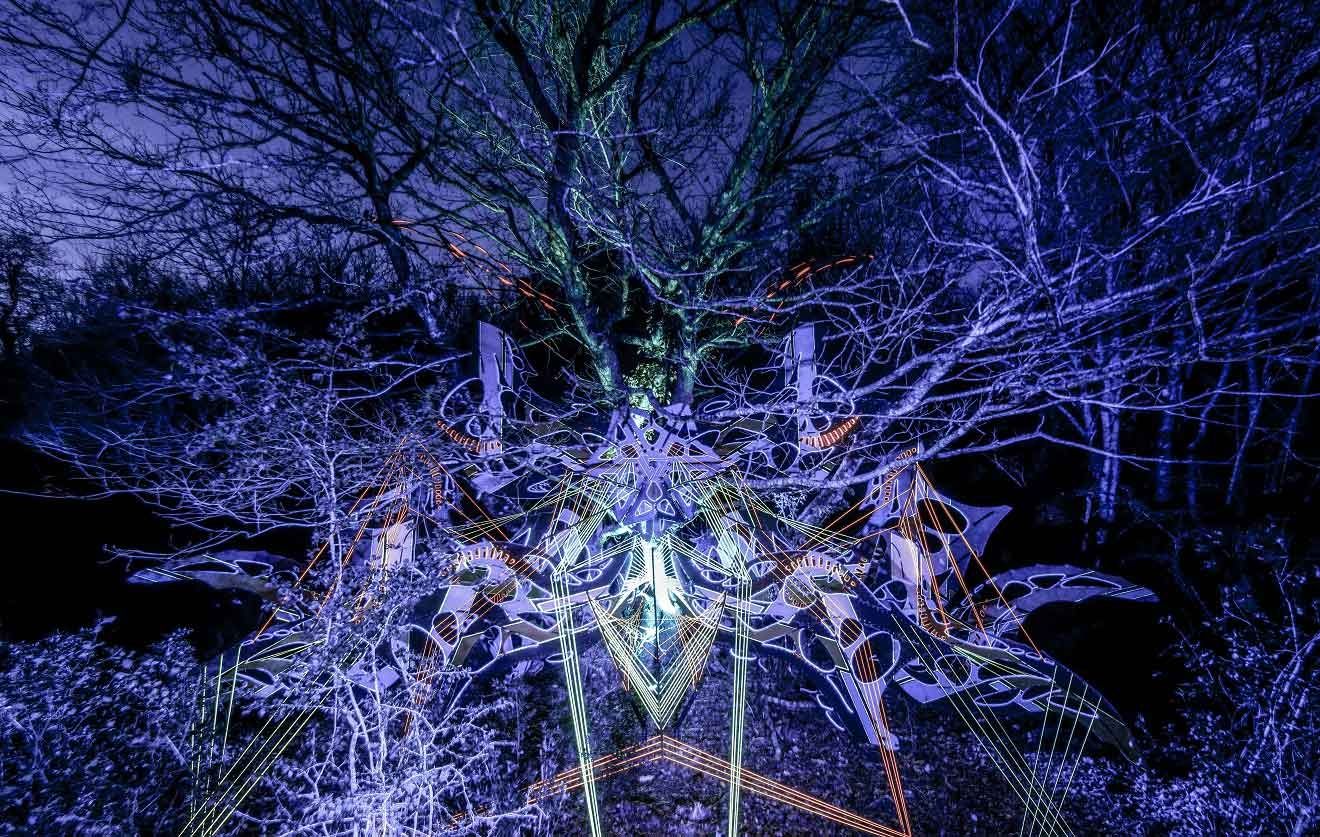 Proteus
- Who are your biggest influences?
As I said, I spent my youth in a friends group in Niort, and it was a real motivating circle. Graffiti and Metal music were our culture, and many of us became Metal musicians, or tatoo artists, street artists, etc.… It wasn't just a hobby, but it became a real way of life for most of us. I believe my biggest influences are in general motivated persons, with strong determination, with the will to do something, regardless of the sacrifice you have to do. I appreciate persons illuminated by their ideas and visions.
I believe this last years my biggest influences were my friends Repaze and Saïr, who are painters, street artists now, we spent many years together in Bordeaux, and their artwork influenced me. By the way they had to invade a place with their abstract painting. Actually they had painted my first structure Proteus at the beginning, and we had collaborated on several installations, or exhibitions. Several people told me my pieces are like a "3D graffiti", that wasn't an objective of my creation process, but I understand this kind of comments, there is an evident filiation with this movement.

The second influence is of course Patrice Pit Hubert. I discovered his incredible work 3 years ago, it was like opening the door of imagination. I had the chance to meet him last year, he's such a rich person, on a personal and artistic level. He offered to bring me on Boom festival and Psy-Fi this summer, it was an amazing experience. He definitely influenced my way of life, as my artistic vision.

Of course I also have more "basical" influences, complexity and strenght of Metal music, softness and pureness of "Art Nouveau", fantastic and SF movies, etc...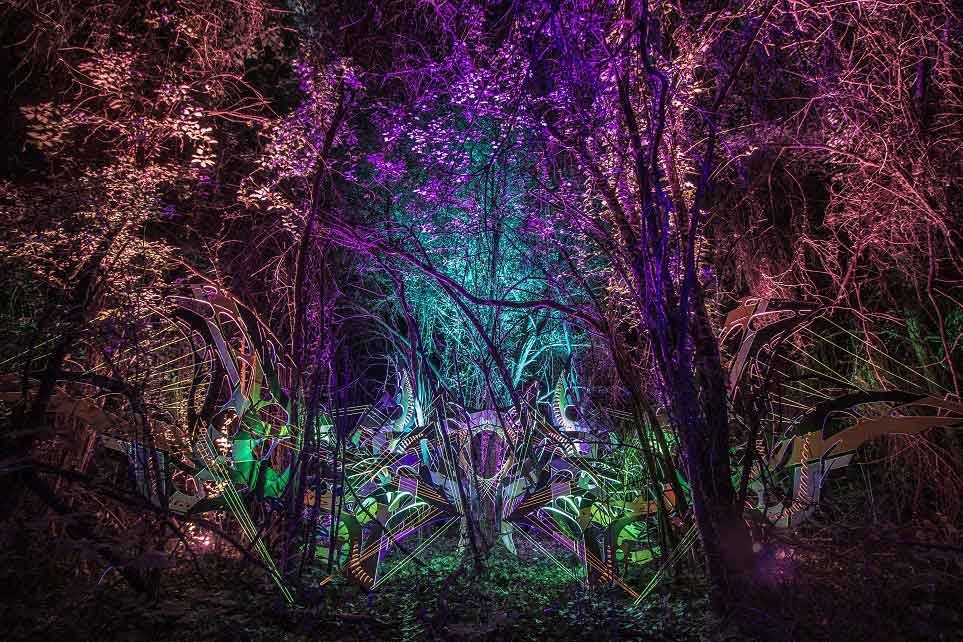 Proteus
- Where do you find inspiration from?
I'm living near the Atlantic Océan, two minutes of the beach, and the wild nature you could find here, is one of my inspirations. Ocean gives me the strenght and also the tranquility I need to create. My work would be different if I was living in a big town area. Nature is doubtless my first inspiration, by all the kinds of feelings you can experience in it.
Today, all my life is turning around my artwork, and I feel the more I work on my installations, the more it influences me to develop new creations, and add new stuff, like photography, or light-painting in my pictures. I like to believe I'm just a tool, used by my own creations, to let express themselves, and bring them further.
When I made a free installation in situ, I observed the assembly process, and "listened" what I have to do, to find a good balance between my installation and the choosen place. I like to believe I don't really make choices, I just make what my artwork needs. It's like composing a song, you're not really the creator, it's the song itself asking an equilibrium, you have just to let it direct you by its dynamic.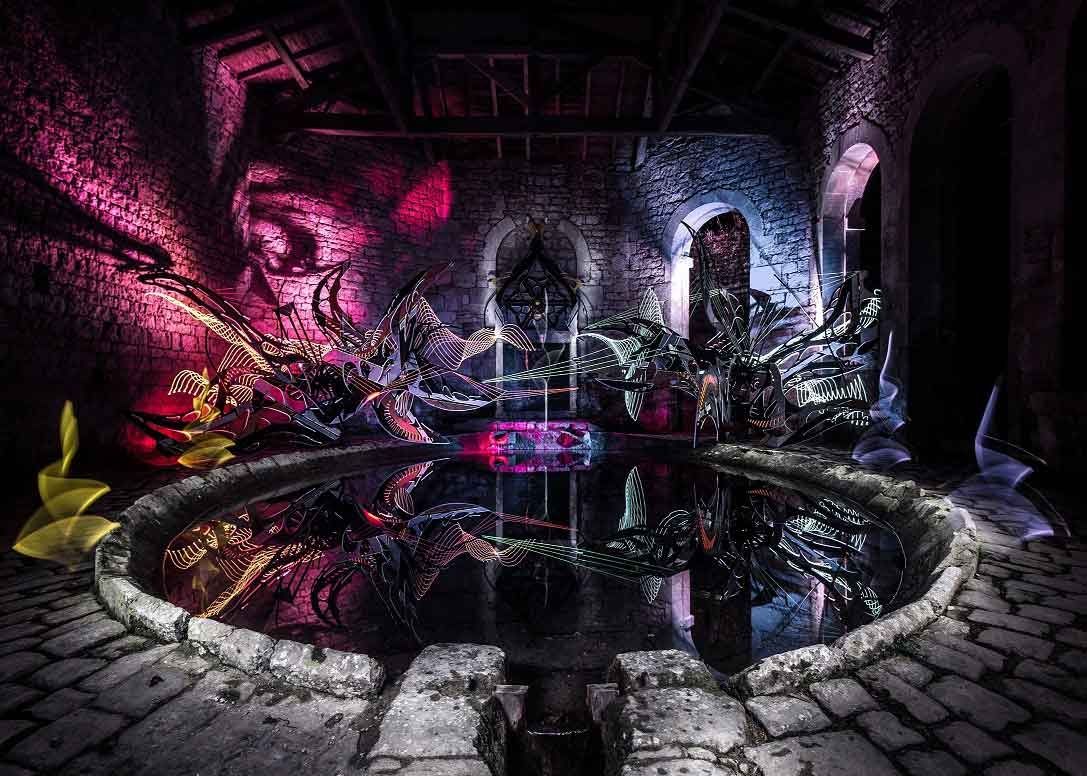 Proteus
- How would you describe your work and the message of your art?
My work today is a kind of melting pot of different practices and activities I can control, to let me express an unconscious vision. I try to find a way to express myself, with all I've learned during my life. A kind of exploitation of my own capacities. I do with what I do the best.
I believe I try to express my "desire to Something else". Today it's not easy living in this world with a peaceful conscience. I want something else, I would like to be somewhere else than in this suicidal system.
My pieces have an explosive and aggressive design, it's a sort of anger I want to express, anger for what we have made to humanity and our planet. So I've create my own defensive system, like animals or insects, not to be hurted.
I have this need to be useful for an other way we were programmed for. A greater way than our world's value today. So I just try to find a way to be peaceful with my environment, and the mother land. Like an excuse I could do to the holy mother.
When I'm going alone in a forest to make an installation, I'm looking for some relationship with nature, but holy relationship. "I come to your arms, and I will not hurt you". I'm looking for a kind of reconciliation, a wish of redemption.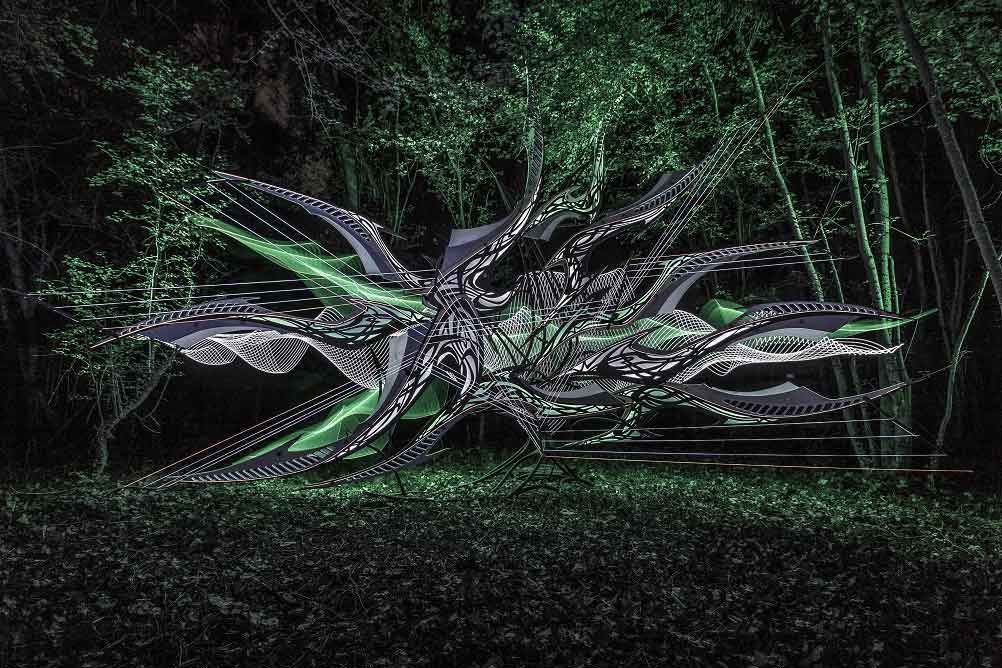 Géonésys
- Is there an artwork that you are most proud of? Why?
I'm rather pleased of my installation at Boom Festival. It was the first time I melted my two structures, the older Proteus, and the new one Géonésys, in one big installation. The result was really "It had to be like that".
A kind of achievement feeling, I've created the second one this winter, knowing I will melt it with the first one day, but the result pushed me to believe I'm on a good way, I had to develop this kind of complete installation.
But if I have to be really proud of something at Boom, it was to be there with the Naïa Museum of Patrice Hubert and his wife Manu Van H, 3 years after the discover of his work. I was so happy to have an opportunity to give my best in a common installation, to be a part of it. I think this event will be engraved in my memory forever.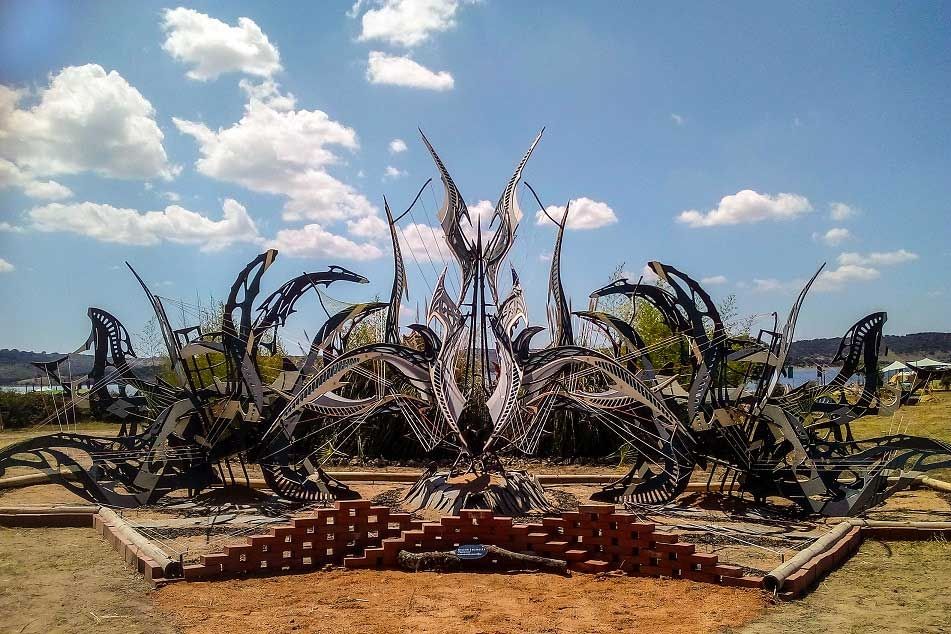 Boom Festival 2018
- How do you know when a work is finished?
My sculptures are always modular structures, so my work is always in evolution, never really finished.
I build the structures, as I imagine it, for the design and the fixation system, but I don't really know what will be the final assembly result.
Once the build is over, the real work begins for me. I take it in my van, go to one of my choosen places, install it during the day, and take pictures during the night. And I learn during these installations how to really functionate my system.
I frequently speak about the "grammar" of my pieces, what is possible or not to do with, and how it had to be assembled to express something interesting. It's something I'm learning with each installation experience. There's no manual instruction with my pieces, I have to discover how to find a good balance between the piece's assembly, the string art, the lights, the light painting and the environnement of course. Possibilities are endless, it's what I like in these kinds of modular systems.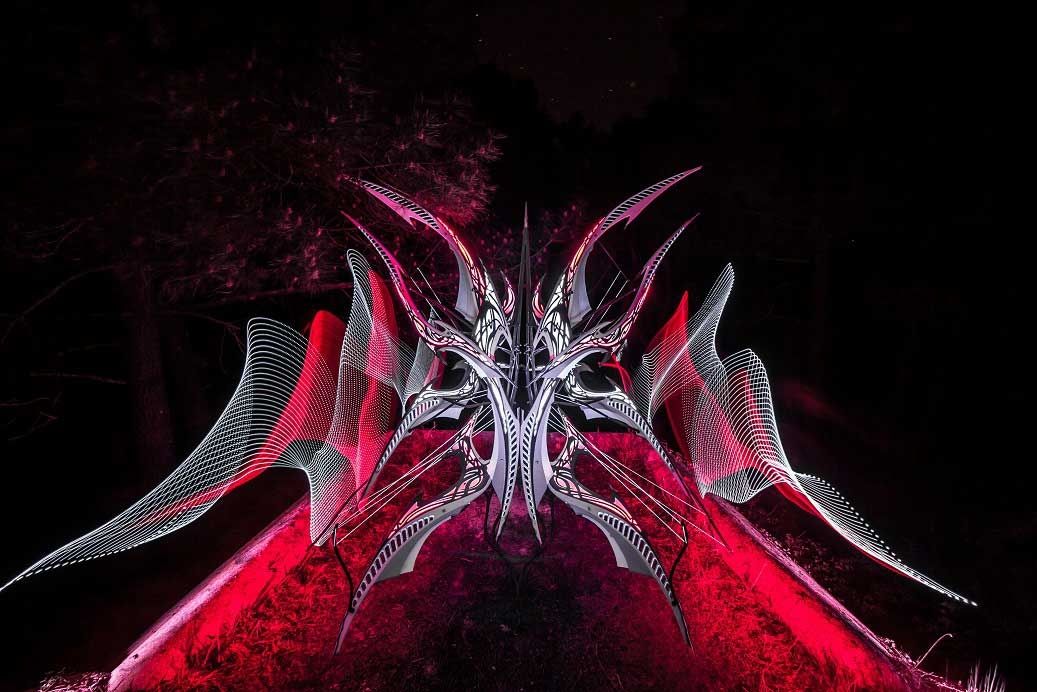 Géonésys
- What are your plans for the future?
Of course creating new pieces, and finding new places to take pictures, maybe go further with my van in search for new motivating places, Eastern Europe seems to be very interesting for what I'm looking for. I can really express myself with the free installations photographies, taking time to try some new stuff, more than at Festivals.
But of course I would like to go on festival exhibits, Boom was so amazing. I hope to exhibit in other european festivals next summer, and why not with time, building some bigger pieces especially for it.
I think I have to dissociate my production, make pieces for free installations pictures, and bigger pieces for festivals.
- Do you have any hobbies?
I don't really have time available for hobbies, my artwork is now taking all my time, so I try to incorporate my new hobbies in my work, like photography 2 years ago. Or rather it's the opposite, my artwork is pushing me to interesting for new activities. My pieces are just matrix, allowing me to incorporate new aspects in my approach, like photography, lighting, light painting, string art, land art, etc... As I say, I'm finally just a tool.
- Is there any advice that you would like to give to your fellow upcoming artists?
For the artists and for the others, my advices should be to believe in yourself, try hard, and never give up.
I've made many kinds of "sacrifices" in my life, to keep a sort of freedom in my decisions, artistic or not, it could be tough, but it's the only way to keep control, and try to reach what you want.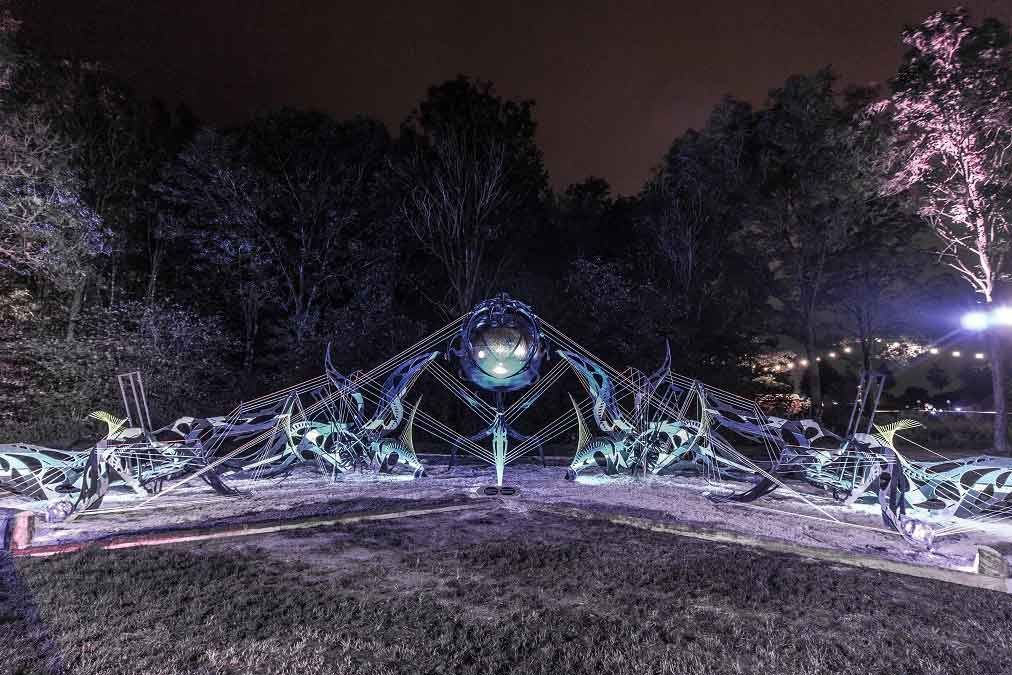 Collaboration with Patrice Pit Hubert at Psy-Fi Festival 2018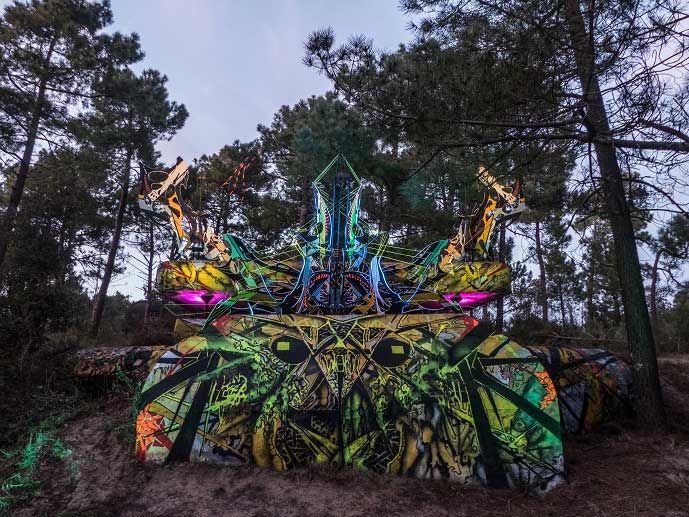 Collaboration with Repaze & Sair
Julien Lechelle's social media:
Facebook: @protéus777
Instagram: @Protéus.777