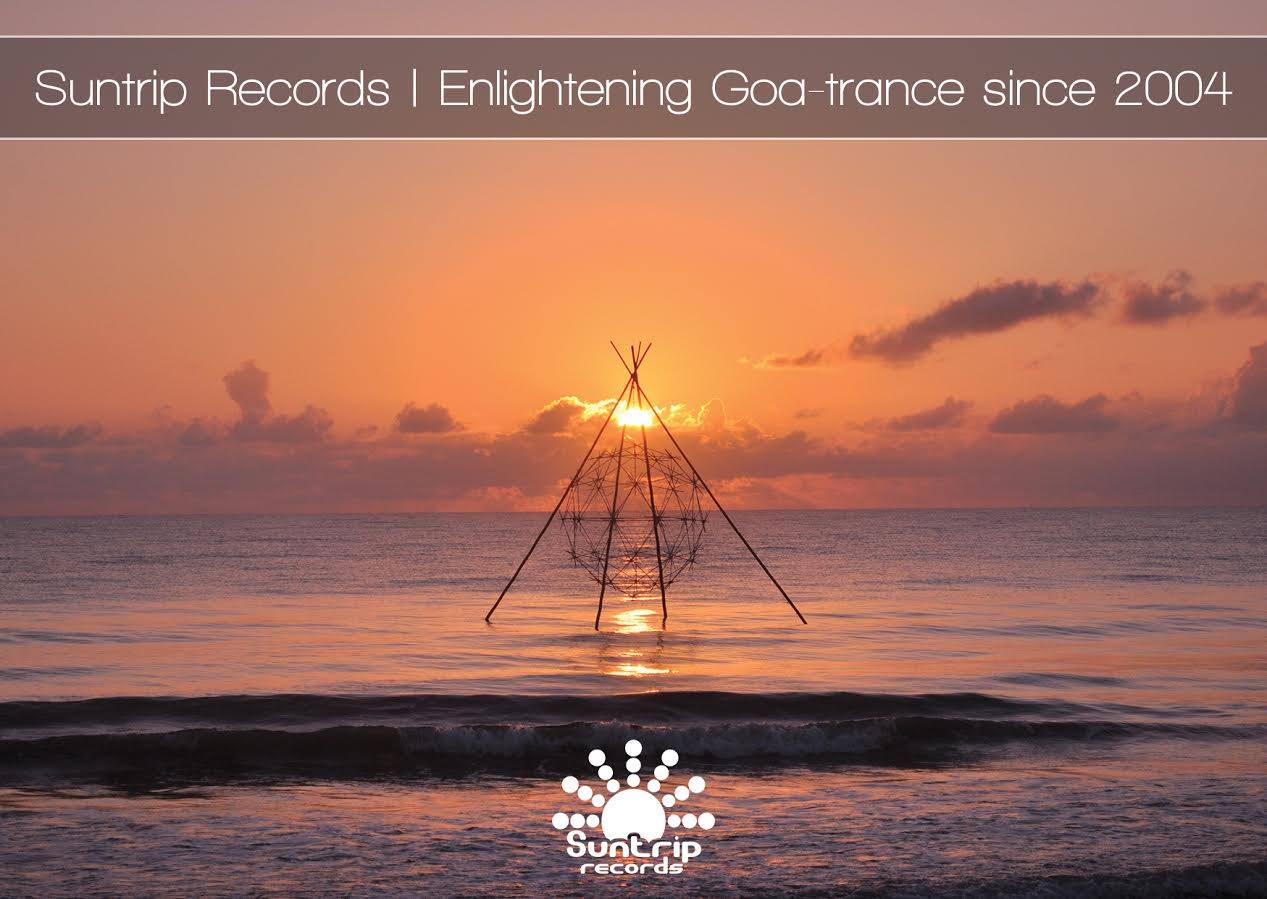 Suntrip Records is a half French, half Belgian record label, releasing Goa trance and melodic Psychedelic trance. Suntrip Records was set up in the summer of 2004 by Fabien "Mars" Marsaud, one of the founders of the Psynews.org website and Joske "Anoebis" Vranken, a famous Belgian DJ and party-organiser. They met for the first time in 2000, for a party gathering members of Psynews.org, then met regularly, sharing the same love for melodic Goa trance.
Tell me about yourself. How&When did you started?
We're Fabien and Jos, French and Belgian. We're 39 and 34 years old. We met on April 20th, 2000. We were both students and active on Psynews which wasn't even called Psynews at the time. There was this party with Infected Mushroom and Talamasca in Paris, and I remember saying "whoever wants to come is welcome, we'll find a way to accomodate you". We'd set a meeting point in the center of Paris. A dozen people showed up and Joske was amongst them. One month later he invited me in Belgium for another party. Then I came regularly to Belgium to party. I thought parties in Paris were dull whereas DJs were still playing Goa in Belgian flanders.
One day we had this idea of organizing a party together. It was called "Psynews summer Launch", which took place in Antwerpen on 29th June 2002, and was long remembered by the scene as one of the best Goa parties held in Belgium.
This period was the inception for Suntrip, as we discovered how much in sync Jos and I were. We shared the same ideas about music, the same dedication to push Goa music forward. The first time we talked about creating a goa label was there, after the party ended, in the garden in front of the partyplace.
We got along so well that we flew together to a festival that Summer. Jannis, the guy who would become Filteria was also active on Psynews. We met him there for the first time.
One year later he had produced his first early tracks. He let me listen to them, there was a lot of potential. When he reached 50 minutes of music, around November 2003, Filteria managed to get his first booking in Stockholm. The crowd's respons was so good that he came back home on fire, and produced the track "Stars" in just 3 hours. It was a revelation when I listened to it. I immediately wrote Jos. That was now or never.
During one year, while Filteria was producing more tracks and refining existing ones, we learned everything about running a music label by ourselves, with a little help from the Turbo Trance Records guys. I remember having appointments at the bank, explaining the girl we were starting an electronic music label(!). I remember being woken up by Arabesque on a saturday morning as they had received our promo and were interested in distributing our music, I remember signing the papers for Suntrip's creation on the French national day, at a party set on the Belgo-French border...and Filteria's "Sky Input" was released in November 2004. We had invested a little money and thought it would be gone after a couple of releases, and that would have been our ephemere attempt at reviving Goatrance music. But the sales were good and the support from the community so good that we're still here 12 years and 46 releases later. We've always kept a "real" job and work for Suntrip at nights or during the week-end.
What are your influences?
Fabien: We're influenced by oldschool Goatrance music naturally. My father used to play classical and rock music when I was a kid and I like these too. I like organic music, music that vibrates through your bones. I started listening to electronic music in 1990 or 1991, and went through hardcore, eurodance, trance, hardtrance, acid trance before being introduced to Goatrance with the Trancentral 4 compilation in 1995. A few months later, Hallucinogen's Twisted was a revelation, and I never looked back.

Joske: As long as I remember my dad played at least some electronic music in our house… Tangerine Dream, early acid new beat, the first techno compilations. So I actually grew up with electronic music and as a young guy in the 90s I ended up listening to euro-dance, club trance and later acid-trance as well. When i discovered goa, there was no way back. This was love at first sight! :) I always believed good music needs at least some melodies or harmony in it, which was in a beautiful, twisted way hidden in goa-trance! :)
What is your vision and true meaning of the Suntrip?
Well, our vision is to help psychedelic artists release their music and play in parties. Of course we tend to priviledge the most melodic part of the movement, Goatrance music, but in a general manner, we set no boundaries as long as the music thrills us. Hence releases like the Ka-Sol one or the Electrypnose one. We're also sparing no effort helping other people promote Goatrance music. we've seen too many destructive fights in that scene and are deeply convinced that we can be stronger together. So we are always happy to collaborate with other guys sharing our values such as DAT Records in Italy, Neogoa in Croatia, Amakusa in Japan, etc.
The true meaning of the Suntrip project? Making people happy of course!
In years from now, if people smile or get chills just at the thought they jumped in the air, raised their arms, cried out of emotion for the music we promoted, then the goal will have been reached!!!
Where do you find inspiration for your creativity?
You should ask the artists! Our inspiration comes from the music they produce! Sometimes one of us write to the other "oh listen to that promo it's so good". And suddenly we want to share this music to the audience and a release project comes up.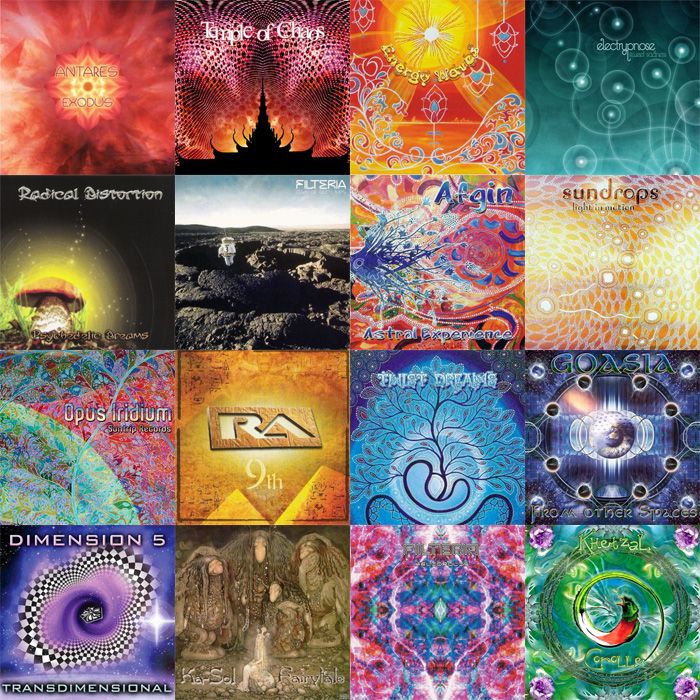 Any future plans?
Plenty! Before the end of the year, Suntrip will release a new very subtle and powerful RA album and an astounding superpsychedelic Crossing Mind album. Both will blow your mind! Astral Projection announced we were collaborating on an EP, so it's no longer a secret, and we're delighted. This really is an achievement for us. There's also Imba's album nearing completion: it's modern Neogoa but really deserves being heard. Filteria is also working on his K.O.B (Kind Of Behavior) side project. We have a couple of Mindsphere albums in store, Merr0w is back in the saddle now he's moved to a bigger place, Cosmic Dimension and Celestial Intelligence are working a lot on new material and Morphic Resonance is already thinking of a second album. Not mentioning a new compilation. And we're preparing something really special for SUNCD50, but hush...
What are your hobbies?

Fabien: Well, I have a daughter, that's a serious hobby. Besides I love skiing but that doesn't happen very often. Instead I listen to more and more modern/alternative rock music. I'm also fond of demomaking (art with computers), and photography.
Joske: My biggest hobby is music of course, as I dj almost every weekend besides working on Suntrip. But I also love travelling, history and nature… a good combo when you play in all kind of far away places. So I love to visit old cities, forests etc. Also reading books about history or philosophy/theology is a serious hobby and having a good time with friends! Damn, if I think about it, too many hobbies :D
Any additional thoughts?
We had a really mindblowing summer with amazing festivals (Boom, Transylvaliens, Lost Theory, Connection). There was so much love, it was really moving. We would like to thank our suporters and the crowd that made these moments so special ! Thank you, from the bottom of our hearts!
Folow Suntrip Records:
Website: http://www.suntriprecords.com/news/
Facebook: https://www.facebook.com/Suntriprecords/
Soundcloud: https://soundcloud.com/suntrip-records
Instagram: https://www.instagram.com/suntriprecords/
Twitter: https://twitter.com/suntriprecords