Hypnotic Art — Skee Goedhart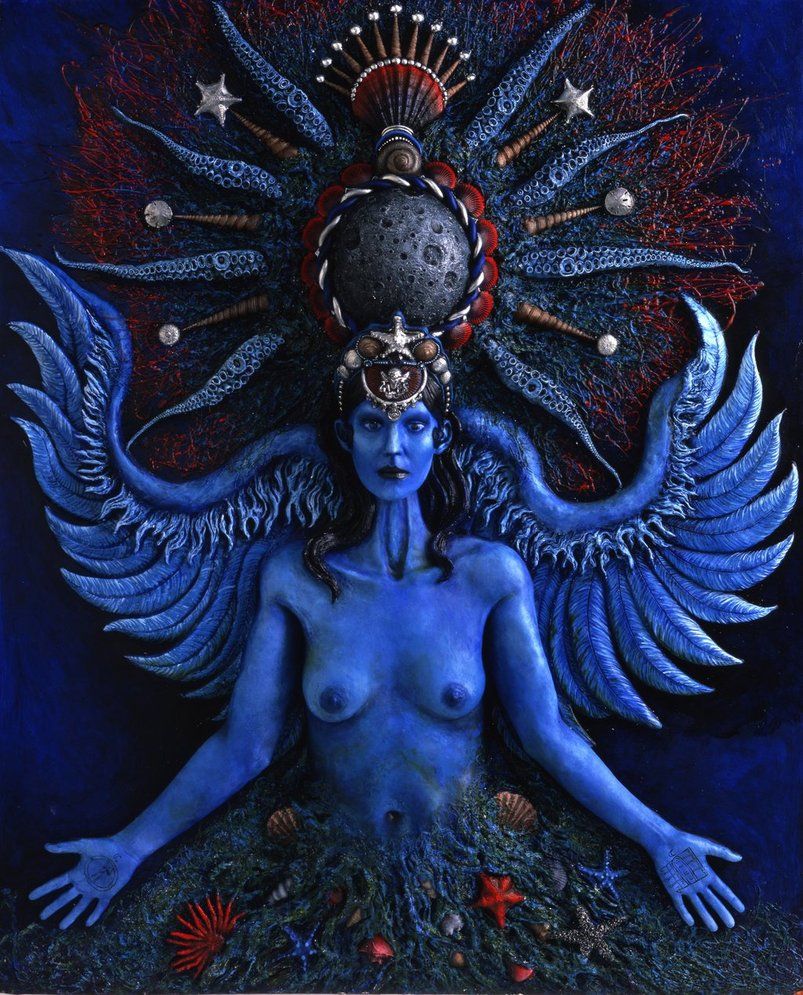 Skee Goedhart has been working as an artist for more than 35 years. He was born in Paris, raised in London and presently lives and works in Los Angeles. In many ways he is a product of his childhood, he grew up in an extremely unusual and highly surreal environment. Both of his parents were skaters in the world's largest touring ice show. From his earliest memories he was immersed in a sea of color and spectacle: lavish costumes, massive painted backdrops, showgirls, peacock feathers, skating chimpanzees and sparkling rhinestones. It was out of this creative soup that he began to express himself through art.
Animals have always played a central role in his life. Growing up surrounded by animals and learning about their amazing personalities has brought him great solace and stability during rough times. According to Skee "In so many respects animals represent the very best of what it is to be human. They are always true to themselves, nonjudgemental, devoted parents, undaunted in their drives and utterly courageous in the face of danger." He loves representing creatures of all shapes and sizes, although he tends to focus upon ones that he finds uniquely interesting, comical or endangered. As a vegetarian he is fascinated with the relationship we have with our food and enjoys painting animals that play an central role in this aspect of our daily lives.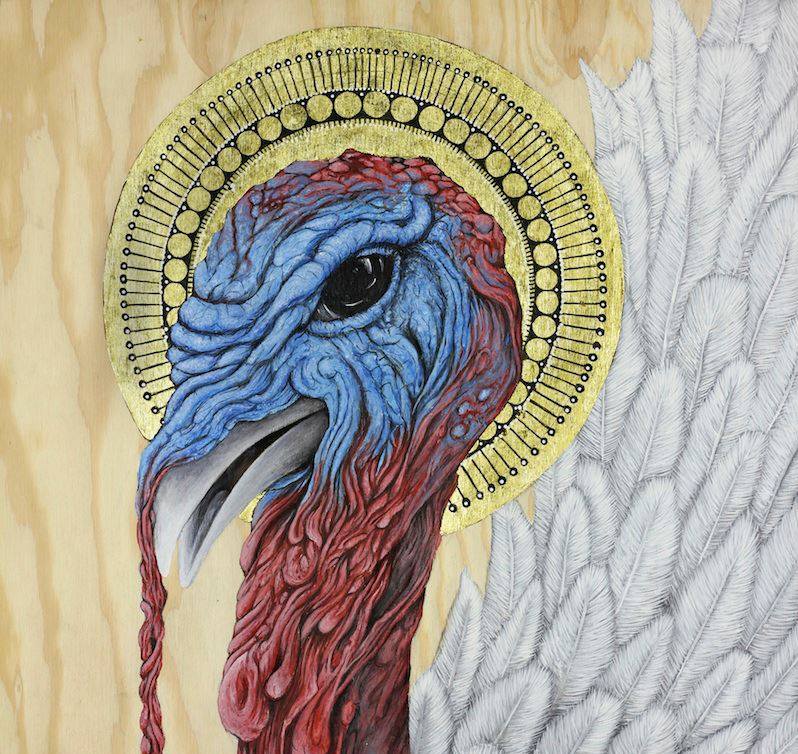 In his series entitled: 'Animal Soul/Vegetable Mind' Skee addressed the notion of a 'pact' being made between a human being and a member of the Plant Kingdom. The artist states: "For thousands of years man has sought to establish a relationship with certain plant species. Whether using them for food, medicine, vehicles of transcendence or worshipping them as gods we have become undeniably bound to them. These relationships are as varied as they are complex; from the veneration of the Great corn deity of central Europe, to the use of various plant 'teachers' in the Peruvian amazon, to the use and abuse of caffeine and alcohol in Northern America. As with any pact both parties aim to benefit from the deal. In this strange notion of plant/human pact, we, as humans benefit by temporarily sharing the same 'vibration'/ 'resonance' of that plant. In short, for a brief time we get to look at the world through the 'eyes' of a plant. e.g. When we drink coffee we are able to literally feel that plant's energy, and share in its' gifts (a higher sense of alertness, light euphoria and expanded linguistic abilities). On the other side the plant benefits by the simple fact that we assist in perpetuating the species. e.g. I plant coffee, I like coffee, I plant more coffee etc."
Another life-long interest, which you will see reflected in his work, is a love and fascination for the diversity of the world's spiritual / religious traditions. This includes their theology, mythology, folklore and the juxtaposition between the sacred and the profane. After receiving a Bachelors in Studio Art he attended a seminary and earned a Masters of Divinity. Part of this study involved tracing central themes and motifs that run throughout many religious systems. Along with their overall structure he's always been fascinated by the idea of achieving trance states and accessing other worlds. Be that seen with the shamans of the Peruvian Amazon, the desert fathers of Eastern Orthodoxy, or the great fakirs of India, humans have always possessed an inborn desire to transcend this present existence and experience the sublime.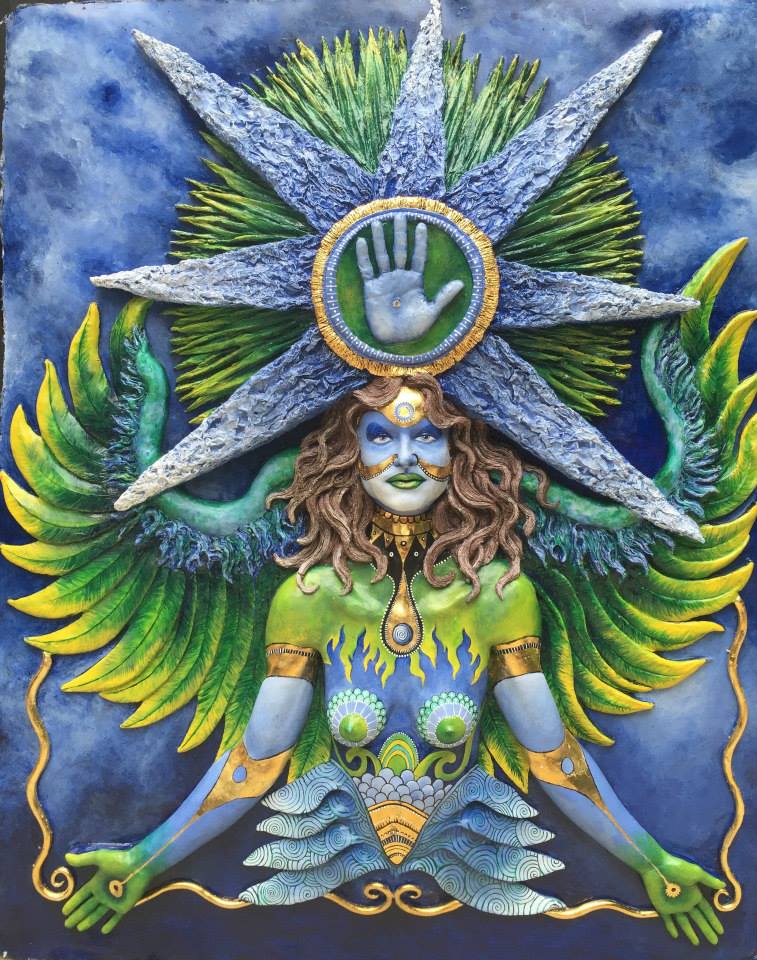 Over the course of his career, Skee's work has evolved and transformed in many ways but certain elements have remained fixed. One of these is the idea of the externalization of the psyche. This is often seen represented in his paintings as a single, solitary figure (wether human or non human) who stares out from the canvas, directly at the viewer. This character literally wears their internal condition (their emotional / psychological / spiritual state) on the outside of their body; their soul has become their clothing if you will.
As well as being an artist, Skee works as a hypnotherapist and has a practice in southern California. He utilizes hypnosis and art together as a way of helping his clients overcome fears, gain focus and access untapped creativity. His present painting series involves creating pieces of art that can be used as a actual tool for entering the hypnotic state. Clients sit directly in front and gaze at the painting and then I use it as a doorway to guide them into the subconscious mind.
Website: http://www.skeegoedhart.com/